MAC TITLE IN SIGHT
SU track and field gains momentum as they continue their march toward the Middle Atlantic Conference meet
After a successful indoor season this past winter, the Mustangs have continued to excel during the spring outdoor season as they approach a halfway point on the journey to the Middle Atlantic Conference championships.  
The team has accomplished new personal bests at every meet this season, with some individual athletes closing in on breaking long-standing school records.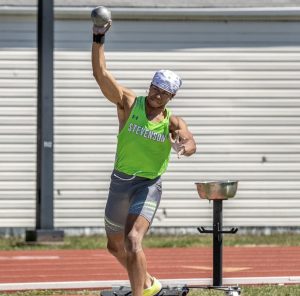 Not only has the team been focused on improving individually, but they're looking ahead for the opportunity to show what Stevenson track and field is capable of at MACs, which is scheduled for May 4-6 at York College.  
"We for sure have the capability this year to win a team title," said senior sprinter Cameron Summers.   
Summers has a school record in sight. At the York Twilight meet last weekend, Summers finished first overall in the 100-meter dash with a time of 11.06, knocking off Division II opponents. His season best time of 10.84 puts him close to the school record of 10.47. He is currently the MAC's first seed in the event.  
"I haven't been able to secure the double gold medal finish yet, so that's my biggest focus for the conference championship," Summers said. "But I also want to make it to nationals, and make a statement when I get there."  
On the women's side of the competition, senior Jasmine Wilson takes on a similar role of leading the team in conference competitions. As an upperclassman, one of Wilson's most significant goals this season has been to stay positive and help the team stay motivated, and always strive to get better.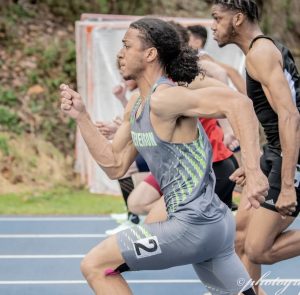 "At the beginning of the season, everyone set a goal and I think with how we've been moving this season, reaching all of those goals is very possible," Wilson said. "As this season has gone on we've become more like a family and I think with the upperclassmen we have in leadership roles, it just makes us that much more motivated to get to the point we want to be at."  
At the York Twilight meet, Wilson finished third in the 400-meter with a time of 1:00.16, sixth in the 200-meter dash with a time of 27.06, and ran the lead leg of the 400-meter relay which finished third overall with a time of 4:15.93. 
In the field events, the throwers have continued their dominance led by juniors Nathan Williams and Makayla Vaughns. In last weekend's meet, Williams finished second in both the weight throw and discus with distances of 59.34 meters and 47.57 meters and fourth in shotput with a distance of 15.96 meters. Vaughns finished sixth overall in the hammer throw with a distance of 40.10 meters.   
Williams finished at the top of the competition, and he continued the trend of breaking his own school records with his most recent shot put toss. With a current school record in all three throwing events, Williams has been a driving force behind pushing this team toward a winning culture.   
"Everyone on this team has come this season with a drive to get closer and get better," Wilson said. "That's why I love this team and I can't wait to see what we're able to accomplish."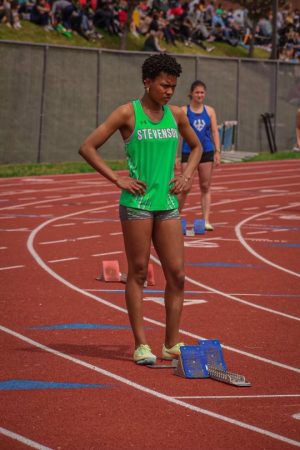 This weekend, the Mustangs hit the road again seeking more victories at the Messiah Multi Invitational Meet in Grantham, Pennsylvania. This is the first meet of the outdoor season where multi-athletes like juniors Jeremiah Battle and Jackson Hall will have the opportunity to compete in the decathlon. On the women's side, senior Nicole Osei will take on the heptathlon.   
The decathlon and heptathlon are just two of many events taking place this weekend that have the Mustangs chomping at the bit to show what they're made of. 
Competition begins today with the first events of the heptathlon at 2 p.m. and the decathlon at 2:30.
Donate to Stevenson Villager
Your donation will support the student journalists of Stevenson University. Your contribution will allow us to purchase equipment and cover our annual website hosting costs.