ESSENCE OF HARD WORK
Lacrosse coach and Pro Lacrosse Hall of Fame member Paul Cantabene's work ethic sets the example for others in Mustang lacrosse to follow 
Paul Cantabene has worked hard for everything to this point. From his playing days in professional lacrosse to his time at the helm of one of the country's most successful Division III lacrosse programs at Stevenson University, he has lived on the essence of hard work. 
As a result, he has established himself as a widely recognized lacrosse icon. 
This month and next, Stevenson will be working toward another in a long line of NCAA Tournament berths. But Cantabene's journey began long before he recorded his first of more than 250 victories as the Mustangs' head coach. 
It all began when Cantabene was 14 years old and one of his five brothers, Chris, brought home his very first lacrosse stick, red with a silver shaft. From there, Cantabene fell in love with lacrosse and decided to begin his journey with the game. 
Cantabene indulged in coaching in 1994 while he was still playing. He traveled around with coaching stints at the University of Maryland, Johns Hopkins, Towson University, and The McDonogh School before finding Stevenson University in 2005. He was recommended to Stevenson by Towson University's head coach Tony Seamen, and he was encouraged to join the Stevenson community by his wife and Stevenson Hall of Famer Tracey Cantabene.  
Paul Cantabene, a Loyola alumnus, said he never thought that Division III would be his calling. However, he has not looked back since arriving on the scene.  
"Coach Seamen always said 'oh, I like Division I, I want to stay in Division I, and you can always go back to Division I if [Stevenson] does not work out,'" Cantabene recalled. "Through 19 years later, I am a really huge DIII advocate."  
Cantabene had little to work with upon arrival at Stevenson. The university had just finished its transition from Villa Julie College and his budget was just $17,000.  His players did not have a locker room, they could not afford helmets yearly, and all they had to practice on was a small side field. 
Skip ahead to now, and that has all changed.  
He has taken Stevenson men's lacrosse to incredible heights during his 19-year career as the head coach. He has taken the Mustangs to 12 NCAA tournaments and won it all in 2013. He coached the 2010 CAC championship team and has helped secure seven MAC Commonwealth titles. He secured his 250th career win with a victory over Catholic University earlier this season. Some of his favorite memories include the 2013 NCAA championship and being the team to end Salisbury University's 104-game winning streak. 
He has constructed one of the most respected and most popular D-III lacrosse programs in the country. Recruits have come from as close as Maryland and as far away as California and Texas.  
"I am proud of how far we have come and where this program is," he said. "I think it made other programs change the way they do things to match our program. What we have been able to do is awesome, and how we have been able to change DIII lacrosse changed how other people in DIII changed things."  
Cantabene said that his efforts in men's lacrosse inspired other programs within the university to expand their horizon, programs including baseball and basketball. 
There is no doubt that Cantabene stands out amongst other coaches in the conference. Cantabene says that while he may be tough and sometimes demanding on his players, he remains a players' coach whose coaching style is fair. He makes sure his players take accountability and take home the lessons that hard work brings. 
"I push them to do things," Cantabene continued. "I do some great things for them, but at the same time we are going to a high level of accountability just like I hold myself and my staff to that level of accountability. We want to win, so it is important to make guys understand what it takes to win day in and day out. Winning never takes a break." 
He uses those same ideas of hard work to prepare his players for the real world after college. 
 "We [the coaching staff] got to make them think that they can do the impossible because it is possible," he said. "We push them to be successful because success does not come by standing around. You got to work really hard, and you got to do things right day in and day out. For our guys to understand that 'if you do not do it now, you will not do it later in life,' we give them all of the things they need to be successful years down the road so they can be successful in their lives." 
"You got to 'pay that rent every day' as I say a lot," he continued. "If they can learn that early, then that really helps them later in life." 
Cantabene feels fortunate to use his playing days to help form his coaching style.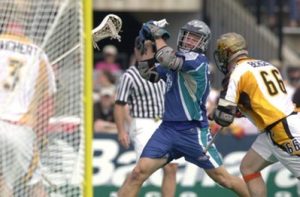 Prior to coaching, Cantabene amassed a 13-year professional lacrosse career. He played in the National Lacrosse League from 1994 to 2004, earning three all-star selections and the 1994 Baltimore Thunder rookie of the year. He was drafted by the Baltimore Bayhawks in the seventh round of the 2001 Major League Lacrosse draft and amassed an MLL career that included three championships and five all-star selections. His tremendous playing career earned him a spot in the Pro Lacrosse Hall of Fame in 2022.
Cantabene says that because of his previous playing career, he can relate to a player's experience and "what they are going through." 
"When you play and when you play with the guys that I played with, you can take a lot from those guy and insert it into how you coach," Cantabene said while mentioning former teammates Gary Gage and Casey Powell.  
Cantabene has coached many Mustangs who made it to the MLL just like him. One of those players includes Mike Simon. A 2009 graduate of Stevenson, Simon was a five-time MLL champion and a three-time MLL All-Star who Cantabene recognizes as a hard worker who built himself up to success, exceeding all expectations.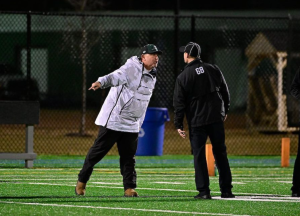 "He came from Fallston High School and was not even heavily recruited," Cantabene said. "Nobody really knew about him. Then all of a sudden, he came here as a second-team all-American and [went on to] win five MLL championships in the pros. Nobody thought that was possible, but Mike really pushed himself [to do that]. We have had lots of players do that." 
In the end, Cantabene wants his players to know that they are capable of doing anything if they work hard. Just like he worked hard to take Stevenson men's lacrosse to nationwide recognition, he wants his players to believe that they can work hard to reach their dreams and desires. 
"You are capable of doing anything, but you just got to believe that you can do it," Cantabene said. "I think what holds kids back nowadays is they do not believe that they can do something. They think 'I can't do this,' 'I'll never be able to achieve this,' 'they have all of this.'" 
So what is Cantabene's message? 
"The impossible is possible." 
So long as you work hard for it. 
Coach Cantabene and Stevenson men's lacrosse travel to Widener University this Saturday, as they square off against the Lions at Quick Stadium. The game is set to start at 1 p.m. Their next home game is Friday, April 21, vs. Eastern. That game is set to begin at 7 p.m. 
Donate to Stevenson Villager
Your donation will support the student journalists of Stevenson University. Your contribution will allow us to purchase equipment and cover our annual website hosting costs.
About the Contributor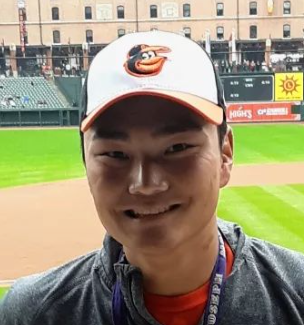 Grant DeVivo, Sports Editor
Grant is a senior from Westminster, Maryland. He served as the Villager's sports editor in 2022-23 after being on staff in 2021-22. He attended Mount St....