Maryland artist uses social media and a sense of humor to become a world-renowned influencer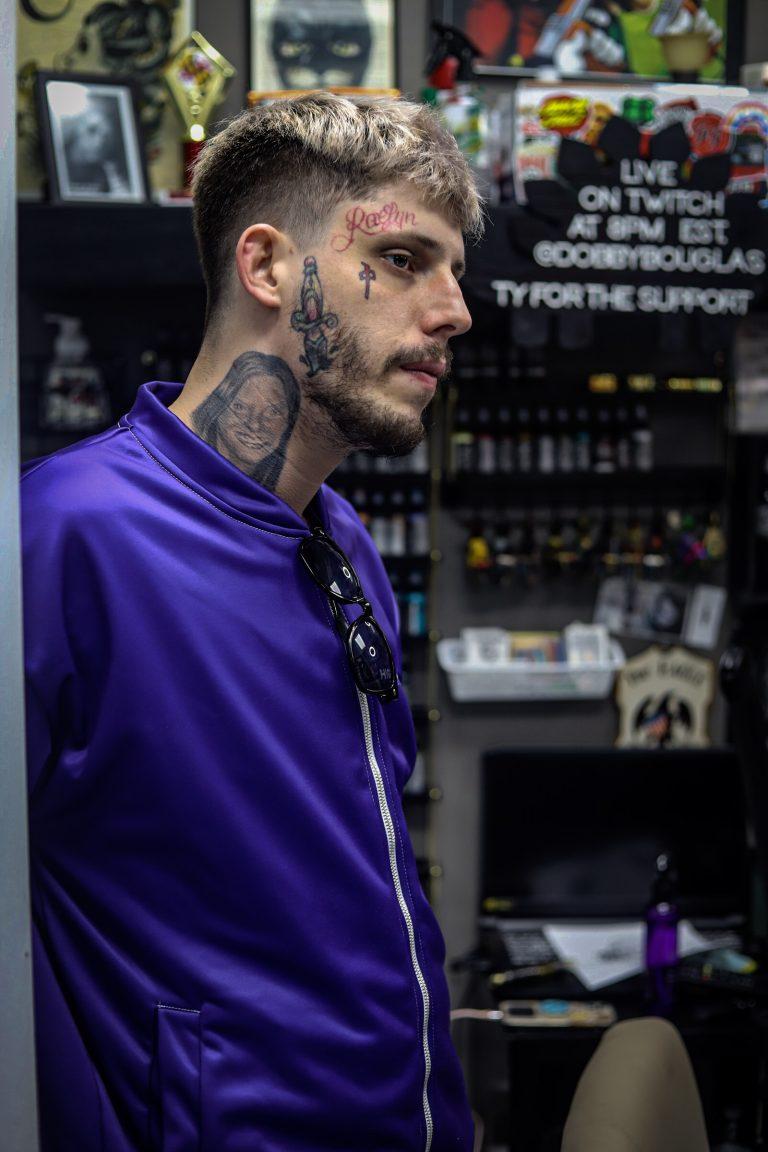 By Connor Lutts
Academics Editor
Introduction
A young Jake Karamol, around the age of 8, slid across a frozen pond, getting a running start and flying into a plank. Jake's older sister, Bri thought when Jake slid across the ice.
"It was so slick and so cool," she said
Then Bri decided to try it herself, but she did not have any upper body strength for it. She hit her chin on the ice during her attempt.
Bri asked Jake if she was okay and Jake playfully said,
"Nah man, I think you're going to have to go to the hospital."
Jake's goofy side has helped him as a tattoo artist in his TikTok videos and in his everyday life.
Who is Jake Karamol? He is a tattoo artist in northeast Maryland who is an artist at Timeless Body Arts [tattoo shop] and is well known for his tattoo TikTok account with a following of 2.2 million people.
One of the most popular TikTok videos that blew up was how tipping your tattoo artist isa not required. It received 2.4 million views and over 194,000 likes.
Growing Up
Karamol grew up with an older sister Brianna, a younger brother named Ryan, a second younger sister named Kylie, and a stepbrother named Josh.
Karamol grew up with his grandparents for a while because his mom was not financially able to take care of Jake and his siblings.
Jake lived with his grandparents until he was about 10 years old. Jake then moved back in with his mom around 11 and continued to live with his mom for a while. It was a rough time for his mom because she was single, taking care of three kids, and had three jobs all at the same time. On top of that, Jake also did not have a father growing up and did not know much about him.
Karamol shared that he lived in Toledo, which is not far from Detroit. His home was in a bad part of town.
Despite living conditions, Karamol cannot reflect on many rough moments in his childhood. I didn't have a bad childhood by any means," Karamol said.
Young Adulthood
When Karamol was around the age of 18, he did not know much about the dangers of buying a tattoo kit and tattooing, so he decided to tattoo his friend anyways.
Karamol says "After that first tattoo, I did on him, that's when I knew what I wanted to do… and after that, it was an obsession." Shortly after, he started working at a tattoo shop prior to working at Timeless Body Art
Karamol did not use the internet prior till three years ago and had a job doing Mixed Martial Arts [MMA]. Outside of his tattoo work working at Timeless Body Arts, he was always training people, and later in his career, his trainer, John, was sent to Afghanistan for deployment. Karamol got all this motivation to do something because he was no longer working four days a week at MMA. Jake then realized he had all this free time and wasn't sure what to do with it.
Karamol then saw a TikTok compilation.
"I could make some silly videos," he told himself.
Jake started making videos that were not tattoo-related at all. He started making goofy videos at his house where he was living at the time because he wanted to start building a solid platform
Jake ended up moving shops a couple of months later and made his first tattoo video at the new shop, Timeless Body Arts. After that his social media platforms began to gain a lot of traction.
Jake's Accomplishments/Struggles
Karamol mentioned "just getting the notoriety", in other words being noticed in tattoo magazines that he never thought he would be on and getting to be known by other tattoo companies that existed.
Karamol explained that being recognized for his work is great. However, it has not come without some difficulties. Karamol considers himself to be one of his harshest critics and always compares himself to the best of the best regarding other tattoo artists. Karamol is hard on himself for a couple of reasons, one of them being art, his mentor being hard on himself and carrying that onto Jake, in other words
"Barely scratching the surface," in other words
Karamol sees that he has a long way to go before he can consider himself to be in a solid place
Before Karamol dedicated himself to tattooing, he had many jobs along the way that had led up to him being a full-time artist.
Previous Jobs
Karamol's first job was at a roller-skating rink, then managing Jimmy Johns at a Chipotle. Karamol realized he hated the restaurant scene and wanted to get out of the city, so he moved to Texas to find an apprenticeship and just chose a random place in Texas a man named Dwayne Dahl ended up being his apprentice and practiced for a year and a half. "Even up till now, I don't feel like I have actually started getting a grasp on tattooing until the past couple years," said Karamol.
Advice From Jake Himself
"You can manifest anything in this world if you believe in it", said Karamol. He puts an emphasis on believing in yourself and disregarding what others may think about you. He always believes that the work you put in will match how much you get out of whatever you do.
While Karamol loves his job now, not having a structured schedule sometimes proves a hindrance rather than a benefit.
"If I had that same structure, I would be further along" said Karamol, in other words, working 4 days a week at MMA
Kind Words from Family and Friends
"When I am around him, my face hurts from how much I've been laughing and smiling," said Karamol's sister, Bri.
Bri sees her brother as someone who is tenacious, critical, and creative – and that is what makes him a great artist and a great person.
His videographer, Ray Delk, commented, "He gives off great energy and generally wants to leave a positive impact on whoever he talks to."
Karamol's friend and longtime client, Sarah DeLucia, love Jake and his work.
"He is a very humble individual like he acknowledges his success and how well he is doing," she said. "But also (he) doesn't let it go to his head."