The School of Design and the Manning Academic Center art gallery are featuring a unique exhibit that not only reminds Americans of the history of Japanese internment camps, but also brings to the surface the eerie similarities between Japanese internment in World War II and the Muslim Ban of 2017.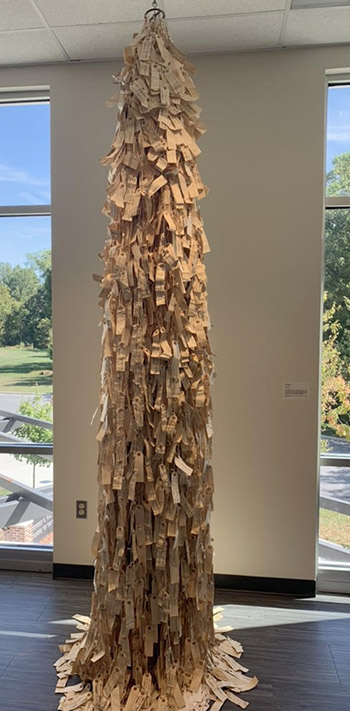 2019 marks the 75th anniversary of the Americans' forced internment of Japanese and Japanese-Americans during World War II. The 'Times of Perception' exhibit features the work from eight different artists who have ties to Japanese internment.
"I saw this correlation between what happened with the internment camps and what was happening with the travel ban two years ago on Muslim groups," explained guest curator Liz Faust.
In both instances, there was a fear in America about the safety of the country, and that people of Japanese descent during World War II, and individuals who were seeking refuge in 2017, are jeopardizing that safety.
"Even though time has marched forward and times have changed, our perception and treatments of those we label as 'other,' has not," said Faust.
The multimedia exhibit, which includes artwork of many different designs, shapes, mediums and fabrics, provides a looking glass back to the past, in hopes that Americans do not make the same mistakes they did during World War II.
One of the pieces, created by artist Wendy Maruyama, is displayed on a tiny screen about 4 feet off the ground, and depicts an episode of Popeye the Sailor Man from the time of World War Two, but this episode has racist overtones about Japanese people.
"These depictions of the Japanese in the episode is so extreme. Kids watch that show, which is why [in the exhibit] it was placed so low to the ground, so that a kid may watch it," said Faust.
One of the most compelling pieces of art in the exhibit stands nearly 13 feet off the ground, almost touching the ceiling.
"…This 'Tag' sculpture, made from nearly 300 different luggage tags, represents the tags that were put in luggage for people bringing their possessions to the internment camps," explained Faust.
Faust pointed out that this piece reminded her of some parts of the Holocaust Museum in Washington D.C., where possessions were taken from Jewish prisoners against their will.
"So many of the pieces in this exhibit speak to who is allowed to be an American and who is not allowed to be an American, especially in the aftermath of the War on Terror," curator Aden Weisel said.
The exhibit is in the Kevin Manning Academic Center art gallery until Oct. 26 and the School of Design Gallery until Jan. 4. Gene Oishi, a survivor of the bombing of Hiroshima, will lecture in the School of Design Sound Stage on Oct. 3 at 11 a.m.