Hurricane Harvey devastates the heart of Texas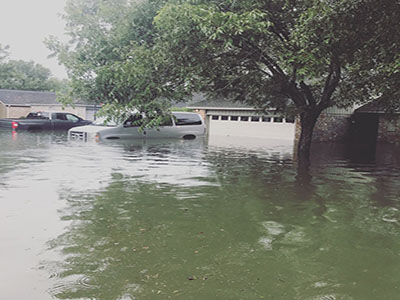 On September 13, 2008, Hurricane Ike hit the Gulf Coast of Texas. Most Texans believed this would be the worst storm they would ever encounter, but Hurricane Harvey proved them wrong.
Hurricane Ike almost destroyed Galveston, which is located about 50 miles south of Houston, in 2008. In the nine years since that storm, Galveston was still rebuilding. Then suddenly, on August 23, 2017 at approximately 3:00 p.m., a hurricane watch was issued from Corpus Christi all the way up the Gulf Coast to the northern counties surrounding the city of Houston, Texas. This included the entire Galveston area. This massive storm surge originated off the coast of West Africa. As it moved toward Texas, it gained speed and moved inland, surprising many.
Leading up to the storm, Texas Gov. Greg Abbott declared a state of emergency and mandatory evacuations for many counties.
Texas had seen hurricanes before, but nothing like this.
Once Harvey hit land, people were scared. Allen Segal, a longtime resident of Houston, said his friends and family wanted him to evacuate, but he decided to stick it out. Most did not realize the capacity of Harvey and did the same as Segal.
Some residents, including Segal, did not believe the news that Harvey would bring Texas' annual rainfall in a matter of days. Harvey, a category four hurricane, stalled over the Houston metropolitan area for four days,dumping more than 40 inches of rain.
Harvey made history, making this disaster the wettest tropical cyclone on record in the United States. More than 30,000 people were displaced, and 300,000 were left without electricity.
Segal recounted the first few days of Harvey: "The rain came down – hard – and for days. Our street flooded – it has before but not like this. With the rising water all over town we realized that we couldn't get out of town even if we wanted to."
Most of the area was submerged in water. Residents of the community were asked by the National Guard to provide their flat bottom boats to help rescue stranded residents. Citizens from surrounding cities and states also ventured to Houston with their boats hitched to trucks to help rescue people. Segal said, "This disaster has seen strangers helping strangers and brought out the best in the community."
Segal believes that it will take years to recover. "Many streets are still littered chest high on both sides with the contents of the homes that border them," he said. According to Segal, the city has suspended recycling pick-up because they do not have the resources to collect all of the rubbage and debris.
Haley Herrin, a resident of Galveston Island, said, "Texans living near the coast were surprised at how well the city of Galveston fared as opposed to Houston. Other cities in Galveston County, such as Dickinson, were not so lucky. This hurricane was devastating as most residents in the city do not have flood insurance on their homes because the law does not require it of them."
This disaster has left thousands displaced and afraid of what might come next. Charities like The Salvation Army and United Way have donation pages available for people to donate to disaster relief. The Texas Psychological Association is offering free therapy sessions for people who have been affected by Hurricane Harvey. More than 100 psychologists have volunteered their time.
This hurricane did not just affect Houston; it affected the whole state. Lauren Milano, a junior at Texas A&M University, said, "The scariest part was how many people have close family and friends that were directly affected by the flooding." Texas A&M University, located about 100 miles north of Houston, had to delay the start of the fall semester by a few days due to flooding around the campus. The remnants of Harvey lingered over these neighboring cities even 100 miles away.
It is clear that the devastation from Harvey has radically impacted all of Texas.  It may take years for the entire area to recover. Those who survived this storm are no doubt hoping that this was truly the worst they will ever encounter, but obviously that is far from certain.
Reporter Sara Miller's family lives in Galveston.
Leave a Comment
Donate to Stevenson Villager
Your donation will support the student journalists of Stevenson University. Your contribution will allow us to purchase equipment and cover our annual website hosting costs.