The 2017-2018 season started strong for the Stevenson University women's basketball team. Facing challenging rivals throughout, the team has maintained +.500 record overall, currently at 13-10. With a record of 7-3 home, 1-1 at neutral locations, and 5-6 on the road, the team is hoping for a successful outcome for the rest of the season.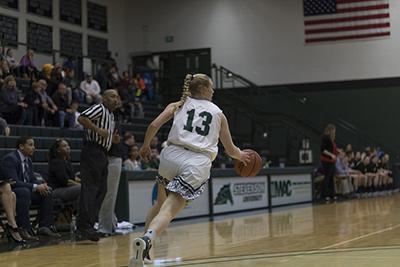 With just two games remaining on their regular season schedule, the team is preparing for the MAC Commonwealth first round beginning on Feb. 19. To close out the regular season, the team will be taking on Lycoming Feb. 10 at home, before traveling to Alvernia University on Feb. 13.
Despite a career-best 18 points from freshman Olivia Coleman, the Mustangs were outlasted by Widener 77-73 in a MAC Commonwealth contest on Saturday, Feb. 3. This was the second game that has gone to overtime this season, but the first that required double overtime. Coleman finished 7-15 from the floor and also picked up nine rebounds while blocking a pair of shots.  Junior Jonyae Curry posted her second double-double of the season, working hard towards a 13 point, 13 rebound performance. Freshman Denia Campbell also finished with 13 points.  Senior Imani Sanders added eight points, six rebounds and three assists in the hard-fought contest.
Neither side led by more than four points in the entire third quarter. A Hannah Crist three-pointer with 47 seconds left in the quarter tied the game at 50-50 going into the final quarter. Widener jumped out to a 54-52 lead before Stevenson went a 9-0 run to take a 61-54 lead with 3:03 remaining. Widener shot 33 percent for the game and Stevenson 32 percent, but the Pride had the advantage behind the arc, which eventually was crucial to the outcome of the game.  Stevenson held a 59-55 rebounding advantage, while the hosts outscored Stevenson 27-19 in points off turnovers.
After suffering the challenging loss to Widener on Feb. 3, the Mustangs bounced back with a win over Hood College on Feb. 7. Junior Jonyae Curry led the Mustangs with 16 points and six rebounds to propel the Mustangs back into the win column after a four-game losing skid.
The Mustangs received a bit of a scare when Hood went on a 12-2 run to open the second half. The run had the Blazers up 51-46 with just over five minutes left in the game. But the Mustangs went on a 15-5 run to close the game, leading to a 61-56 victory.
"If we don't shoot as well as we did from the free throw line tonight, we would be looking at something different right now," said head coach Jackie Boswell after the game.
The Mustangs return to play on Feb. 10, when they host Lycoming College for a 1 p.m. MAC Commonwealth contest.