New baseball coach readies for 2018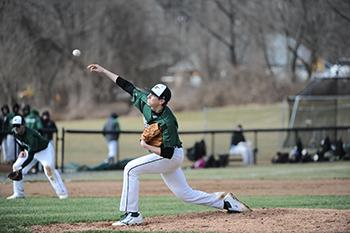 The new head coach for Stevenson University's baseball team, Dave Gage, brings a wealth of experience to Stevenson athletics.
Before becoming the head coach at Stevenson,  Gage coached for 10 years — five years as an AAU coach in Albany, N.Y., and five years at his alma mater, Southern Vermont College.
"I really love Stevenson and we got really good kids here as players. I'm excited for the season and the future of the program," he said.
Gage explained that through his experiences in playing baseball, he has had both good and bad coaches. From these experiences, he learned that coaches make an impact on players lives. "That is why I wanted to get into coaching. I've been lucky to coach some really good players in my life and I'm trying to continue to build as many good relationships as I possibly can for life down the road too," Gage added.
During the off-season, the team worked hard and is buying into the training schedule Gage established. Although this is his first year at Stevenson, Gage said the transition has been smooth. "I think mainly because we have really good kids and really good people, and when you have good people, that chemistry comes pretty easily," he explained.
Gage said that his main focus is to have his players improve on a consistent basis throughout the season. He stressed the importance of making sure the team as a whole does well academically, and represents Stevenson University baseball the right way off the field.
"Obviously everyone wants to compete for championships, but we want to be champions off the field and then we will be champions on the field," he said. Another one of Gage's priorities includes getting his seniors ready to graduate, making sure they are in a good position to receive a job right out of college.
Last year the Mustangs finished the season with 18 wins and 22 losses. Senior captains John D'Aquanno (3rd baseman) and Michael Kelly (outfielder) both return in hopes to help improve their team's record from last year. D'Aquanno had a .347 batting average with 44 hits, 20 RBI's, .446 on base percentage (OBP), 7 stolen bases, and a .892 fielding percentage in the 2016-2017 season. Kelly had a .143 batting average and on base percentage with 2 runs scored in the 2016-2017 season.
The Mustangs' first game of the season is against Penn State Abington on Feb. 17 in Fayetteville, N.C. The team's first home game of the season is against Immaculata University on Feb. 20 at 2:30 p.m. on Sugar Field located directly behind the Greenspring campus.
Donate to Stevenson Villager
Your donation will support the student journalists of Stevenson University. Your contribution will allow us to purchase equipment and cover our annual website hosting costs.