Despite the competitive scheduling, the Stevenson University men's volleyball team has remained at .500, while starting off undefeated in the inaugural season of the Middle Atlantic Conference, also known as the MAC.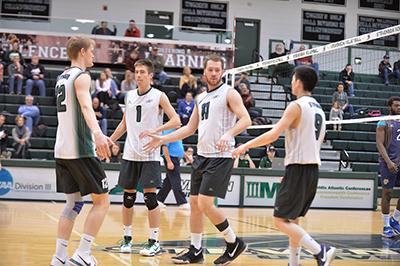 Overall the men are 5-5, with four of those losses coming from top-15 nationally ranked teams; the Mustangs are 2-0 in conference play.
The men's team left the Continental Volleyball Conference after last season to join the MAC, the conference in which the rest of Stevenson athletic teams compete.
According to a MAC press release, "Conference bylaws require that at least five of the conference's member institutions offer a particular sport before it may become a conference-sponsored sport."
Seven schools compete in the first-ever MAC men's volleyball conference: Alvernia University, Arcadia University, Messiah College, Misericordia University, Stevenson University, Wilkes University and Widener University.
Stevenson coach Aldis Berzins and his team have set conference and non-conference goals for this season. Berzins said that they want to win the MAC, which will give them an automatic bid to the NCAA tournament. They also want to end the season above .500 in out-of-conference games, a challenge since Berzins has set up a competitive schedule against mostly ranked teams.
So far the top 15-ranked teams that they have played are Springfield (1), UC Santa Cruz (4), Marymount (5) and SUNY New Paltz (14). They lost to all four of those teams, but have Juniata (tied for 8), Vassar (13), MIT (15) and Marymount again, all still on their upcoming schedule.
On Feb. 9 the Mustangs played the Division 1 and Ivy League school, Harvard. According to a Stevenson Athletics press release, Stevenson won 3-1 in the consolation match of the International Volleyball Hall of Fame Morgan Classic at Springfield College.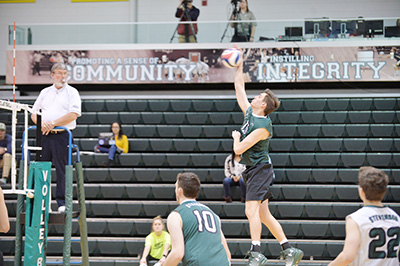 The Mustangs started out the season playing their first four games in California, including one against the fourth-ranked UC Santa Cruz. While there, they went 2-2. Berzins said that they traveled west with only minimal practice before hand, but it was a good trip because it gave the freshmen experience playing collegiate volleyball.
After last year, the team graduated five seniors, so to adjust for this lost, they brought in five freshmen. The team has only two seniors, but five juniors fill the roster. Berzins said that he encourages his upperclassmen to mentor the freshmen and give them positive feedback.
Junior captain Landon Shorts said, "Our team is meshing well, but there is always room for improvement. It is all a learning experience. Every day in practice we learn more about our team and our teammates."
This is only Berzins' second year as the head coach at Stevenson, and he said his current team is very different than last year's. This year he has a much younger team and has been challenged with injuries, so he has been working with his team to handle the adversity that they face.
The Mustangs' next home tournament will be Saturday, Feb. 17 at 2 p.m. and 6 p.m. against Widener and Hunter College.