The 2017-2018 swim season for the Stevenson University Mustangs has come and gone. The record tells a story of struggles and rough outings, but the swimmers themselves don't look at the record. With a roster that featured three males, 10 females–  one senior and a handful of freshman — the focus was on individual success.
"Going in, I'll sit down at the beginning of each year and I'll have a meeting with every swimmer and get our individual goals, and then based off that we build to our team goals," said head coach John Stuhltrager. "I try to focus on individual success and then that individual success makes your team successful."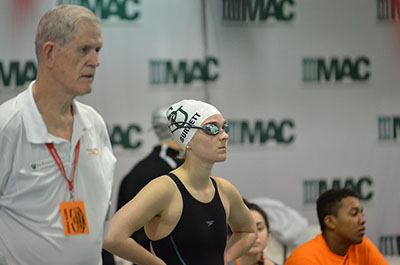 The win-loss record does not show the individual success that each swimmer had in 2017-18. Sophomore Melanie Milam broke two schools records in the Diamond-City Invitational on Nov. 18. She set records in the 200-yard and 500-yard Freestyle. Junior Juliana Burnett carried the Mustangs in the month of January, picking up six individual wins, including three in a dual meet against Gallaudet University on Jan. 20. Her wins came in the 100- and 200-yard Breaststroke.
On the men's side, they were led by senior Zachery Cather, who set two school records in the dual meet against Gallaudet by winning the 50 Fly with a time of 32.47 and the 100 Fly finishing in a time of 55.82, .08 seconds faster than second place. In that same meet, junior Adam Michalak set a school record in the 50-yard Breaststroke with a time of 32.47. For reference, the second place finisher was a full 10 seconds behind Michalak.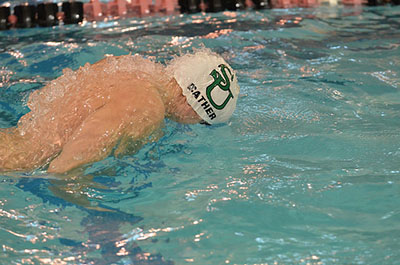 The MAC Championships saw more individual success for the Mustangs. The women's team set season-best times in the 200-yard and 400-yard Medley. The team of Burnett, Milam, and juniors Colby Stein and Isabelle Ramsland set a school record in the 400 Medley with a time of 3:59:05. Burnett and Milam also set school records in the 200 Back and Breaststroke during the MAC Championships with Burnett also setting the school record in the 100 Backstroke.
Cather and Michalak set personal bests during the four-day championships. Cather will graduate in the spring owning five school records.
The 2018-2019 swim season will be here before they know it and Stuhltrager is quite optimistic.
"We don't graduate any girls and we only graduate one boy. I think that's the biggest positive, that the team stays together for one more year. Hopefully we can bring in some freshmen that complement our girls and boys, and we figured out a few things, I think, this year… We have some distance kids on the team that I don't know if we really identified before so we will have a different type of training for them," he added. The team and their coach believe that the future is looking bright for the Mustangs.