Since 2013, Stevenson University's Beverly K. Fine School of the Sciences has hosted the annual Dell Lecture. The lecture began on March 5, 2013, designed to honor student excellence in science and mathematics at the university.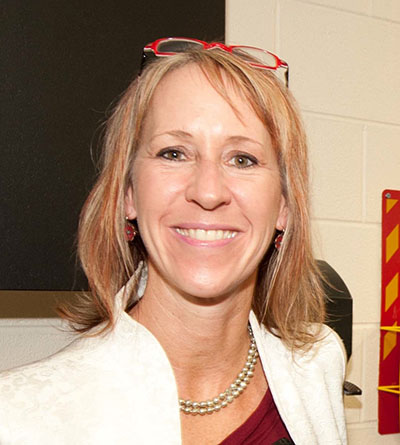 The sixth annual Dell Lecture will be held on March 21, 2018 at 5 p.m in the SoLVE Center (OMN). Speaking about "The Practice of Innovation" will be Jan Baum, the director and founder of Object Lab, a comprehensive, research-based, state-of-the-art rapid technologies and digital fabrication lab based in the Baltimore, Maryland area.
Object Lab engages the full range of digital technologies for next generation making and manufacturing: 3D imaging and scanning, 3D digital modeling, rapid prototyping, and digital fabrication. Baum is also a professor at Towson University currently teaching ART 327 – Design & Social Entrepreneurship.
Baum is recognized by Towson University as "a leader in bringing the advanced manufacturing agenda to the greater Baltimore region, who has had many leadership roles in conferences."
The Dell Lecture was named in honor of Stevenson Trustee Samuel M. Dell III and his wife Geraldine, who established the Dell Scholarship to recognize outstanding rising Stevenson seniors who are studying majors related to biology, chemistry, and mathematics. The inaugural lecture was given by Dell, who detailed his hopes for the future of the Dell Lecture.
The Dell Lecture has been a way for Stevenson University students to learn from some of the best in the field. Each year, the lecture has brought knowledge and new ideas to the School of the Sciences.
A student is awarded the Dell Scholarship each year based on several criteria. Stevenson University chooses the student "who possesses strong ethical grounding and work ethic that result in both academic and personal success," according to the Stevenson University website. The scholarship is also based on "being a team contributor; demonstrating the ability to apply theoretical concepts to solve practical problems in the sciences; achieving academic excellence; an appreciation for cultural diversity; and a commitment to personal growth and development."
In past years, Stevenson has had speakers such as James R. Damewood, Jr., a renowned chemist, who serves as a Business Liaison and Principal Research Toxicologist for Haskell Global Centers for Health and Environmental Sciences at DuPont.
Last year, the university was honored to host Dr. Geoffrey Ling, founder and COO of On Demand Pharmaceuticals, Inc. Dr. Ling is also an attending physician in the Neurocritical Care Unit at Johns Hopkins Hospital.
For more information on this year's Dell Lecture, please contact Melissa Craig, assistant to the dean of the School of the Sciences, through campus email.