After two years, the food pantry at Stevenson University has changed its operating hours and location for the spring of 2018.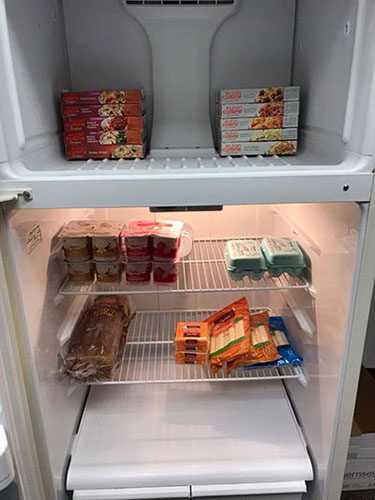 The food pantry is now located in Rockland Room 217-A with hours as listed below. However, users can still arrange a time outside the new hours by contacting Morgan Somerville, director of student engagement, through her campus email.
Mondays: 12-1:30 p.m. and 2-4 p.m.
Tuesdays: 11-12 p.m. and 3:30-6 p.m.
Wednesdays: 12-1:30 p.m. and 4-8 p.m.
Thursdays: 11-12 p.m. and 2-6 p.m.
Fridays: 9-10:30 a.m., 12-3:30 p.m., and 4-8 p.m.
The food pantry was created in 2016 by Student Activities, Residence Life, and the Wellness Center to address the issue of students who are unable to afford food to eat, often referred to as 'food insecurity.' Students are able to go to the Pantry at the allotted times and fill out an anonymous and confidential form to receive food.
Students, faculty, and staff are able to donate non-perishable food items and toiletries such as soap, toothpaste, and feminine products, at the above time, or leave donations at the entrance of the food pantry when the pantry is closed.
Some food items the Pantry needs include Ramen noodles, Mac N' Cheese, bottled water, tomato sauce, pasta, peanut Butter, jelly, granola bars, and applesauce. Updates about the Pantry's needs for food items and toiletries can be found on its Facebook Page.
Food hunger has become more of an issue for college students as tuition, meal plans, and room and board charges increase. According to the Boston Globe, "36 percent of students go hungry since they can't afford it." Students hunger can result in a drop in academic performance. Other data indicates that at least 11 percent of students on four-year college campuses face food insecurity issues, according to SwipeHunger.org.
Somerville has been overseeing the initiative for the past two years along with student volunteers. Two years ago she explained that she "can't tell who needs it or who doesn't," and always tells students who visit her that there is a food pantry available.
Aika San Diego, a student volunteer at the food pantry, said, "There are students who are unable to afford food they need," adding that she didn't know this was an issue until she started working at the Food Pantry."
San Diego also mentioned that the pantry use has nearly doubled in the last school year. She attributes the growth to students learning that the food pantry is a place to find food when they are unable to afford meals.
Along with San Diego, five other student volunteers work at the Pantry.  Many of them are Service Scholars, students who receive extra scholarship aid in return in helping the community of Stevenson University. More information about the Service Scholars can be found here.
For more information or concerns about the food pantry, please contact Somerville through campus email.