Men's volleyball strong conference contender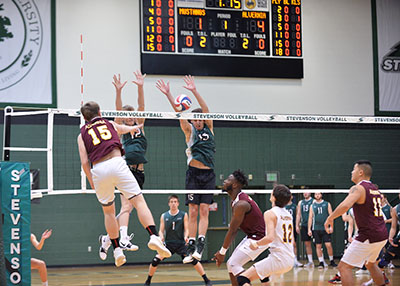 To be the tops in any sport from high school to college to the pros, teams have to be able to beat top competition. The Stevenson University men's volleyball team is out to prove they are indeed the top dog.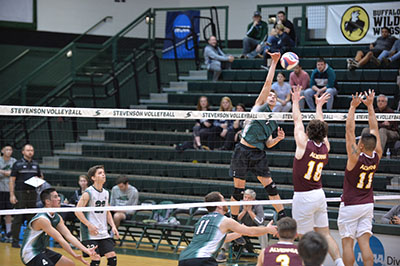 A tough non-conference schedule has pushed the Mustangs this season and the results are showing. The Mustangs are 14-8 overall but they are undefeated in conference play, sporting a 6-0 record through March 18. The Mustangs have beaten top schools including Illinois Tech in straight sets 3-0 on Jan. 12 in Santa Cruz, Calif. They beat Division I Harvard in the Morgan Classic, three sets to one, on Feb. 10. On Mar. 7 they took down Marymount University 3-1, who at the time was No. 3 in Division III men's volleyball.
Junior Landon Shorts is very happy about having to play a tough schedule.
"It is great to be able to play the best competition in our tough non-conference schedule. It gives our team a chance to see where we are as a team compared to all the national-ranked opponents. It's also very good competition. It's a lot of fun playing against these teams."
It helps the Mustangs that they have a player of Shorts' caliber. At one point he had won five MAC Player of the Week Honors for the Mustangs. Shorts has dominated with 242 kills, and has scored 326.5 points on the season.
Coach Aldis Berzins had high praise for Shorts. "When Landon is in a rhythm, he's pretty much unstoppable… He has a DI international-level serve. He has a heater and he can score against anyone," said Berzins.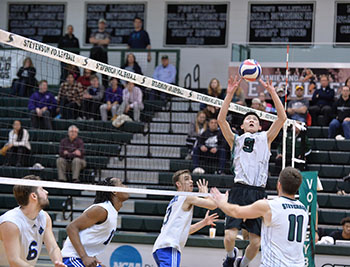 Shorts explains that there are many factors to make him so dominant. "A couple of these factors are my leadership skills, the drive to improve my play every day, all the hard work in the weight room and the practice gym, and my vertical jump, which is 42 inches."
The Mustangs have been dominating lately, and Shorts highlights one game that got the Mustangs rolling.
"I think the biggest game of the year that got this team on a roll was our 3-1 win against #3 nationally ranked Marymount," he said. The Mustangs are 2-2 since, but both losses came to non-conference opponents Vassar College, who was ranked 12th in the county, and #15 Massachusetts Institute of Technology on March 10.
The Mustangs, led by Shorts, freshman Logan Smiley,  junior Jason Gardner, and senior Alex Klunk, bounced back by beating Juniata College 3-2 on  March 16 with Shorts, Gardner, and Smiley all registering double-digit kills and combining for 43 total kills. On March 17, the Mustangs took a match against Misericordia University in straight sets, 3-0. Smiley led the way in that match with nine kills while Klunk chipped in with eight kills and two blocks.
With five games left in the regular season, Berzins explained what the Mustangs need to do to win: "Play consistently at a high level. We have shown that we are erratic. Sometimes we play fantastic like our best game against Harvard, a DI school, and then we've dropped sets to, I think, teams we shouldn't have dropped sets to."  The Mustangs return to action on March 22 when they host Messiah College in a rescheduled game.
Donate to Stevenson Villager
Your donation will support the student journalists of Stevenson University. Your contribution will allow us to purchase equipment and cover our annual website hosting costs.