The expansion of Greek life to include males at Stevenson University is approaching.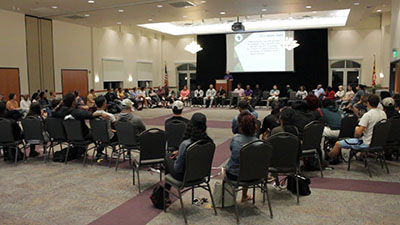 After years of the national Pan-Hellenic sororities Phi Sigma Sigma and Alpha Kappa Alpha chapters on Stevenson University's campus, fraternities should be making their way to campus during the next year, according to Phil Gatling Jr., assistant director of student activities and a member of the Fraternity and Sorority Life Recognition Committee. He explained that these two groups — the Office of Student Activities and the Fraternity and Sorority Life Recognition Committee — are collaborating to move the fraternity process forward.
This committee is comprised of representatives from the Division of Student Affairs, the Student Conduct Office, Dean of Students, the Office of Multicultural Experiences, Residence Life, Student Activities, the campus advisors of both sororities, and faculty members, according to Gatling.
The instituting of fraternities should not be confused with the school's pre-professional societies, such as Alpha Phi Sigma, a criminal justice honor society, or Phi Beta Lambda, a national business society that serves as the collegiate level of Future Business Leaders of America.
Based on Stevenson University's core values of promoting a sense of community, fostering learning, instilling integrity, and achieving excellence, national fraternities "have demonstrated a sense of community, enhanced, and continual learning, integrity, and proven strategies for excellence," said Gatling.
The university has hosted campus visits with the three fraternities that are in the running for an SU chapter, along with the men from Stevenson who have expressed interest in joining a fraternity. The Fraternity and Sorority Life Recognition Committee created a group of representatives from many other organizations on campus, along with student representatives from both Phi Sigma Sigma and Alpha Kappa Alpha.
Gatling said, "Our target is to have two fraternities charter/colonize at Stevenson University during the fall 2018 semester. The Fraternity and Sorority Life Recognition Committee will make a decision on the two accepted fraternities by the end of April 2018."
The director of student activities, Dan Schwartz, was unavailable for comment concerning which fraternities are being interviewed for campus chapters.
Due to the differences in the Greek umbrella organizations, all fraternities have different requirements for membership so it is not known at this time how the pledging process will work.
Maddie Saul, Phi Sigma Sigma's president, said, "I'm really excited for more attention to be brought to Greek life on our campus this fall. I am excited to see the women in the organization get the attention and respect they deserve," adding that most non-Greek people do not get the privilege of understanding or experiencing what sororities do behind closed doors.
Gatling added his own thoughts about the benefits fraternity life offers: "Students gain additional leadership and service experience that will allow them to meet a wide array of professionals that can transcend past their undergraduate years. Having a fraternity and sorority life system will also create a different alumni cluster that will pour back into Stevenson University long after graduation."