Men's volleyball closes in on MAC title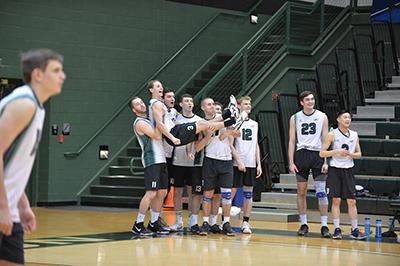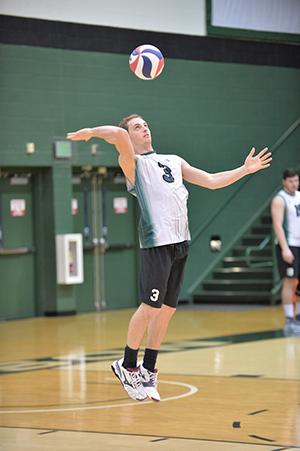 Stevenson's men's volleyball team has managed to secure the first seed in the upcoming inaugural Middle Atlantic Conference after recent straight-set wins against Alvernia University and Widener University, accumulating a record of 11-0 in conference.  Contributing to the victory against the Golden Wolves at Alvernia were junior Jason Gardener (11 kills, 5 digs), freshman Logan Smiley (10 kills, 3 digs), junior Landon Shorts (6 kills, 10 digs), sophomore Kyle Bosco (4 kills, 3 digs), senior Alex Klunk (3 kills, 1 dig) and both setters, junior Jared Chin and freshman Aleks Melbardis were solid on assists.
The Mustangs took down Widener on April 4 in straight sets behind dominant play by Shorts, who had a match-high seven kills with eight digs and four aces. Gardner and Smiley each finished the game with five kills and combined to have seven assisted blocks. The mustangs took the match with scores of 25-4, 25-7, and 25-6.
This was the sixth game the Mustangs have won during their current six-game winning streak, the other five coming against Juniata College, Messiah College, Misericordia University, Wilkes University, and Alvernia University. Each win came in straight sets except for the Juniata match. Despite a highly competitive schedule this year, the team has managed 18 wins and 8 losses as of April 5. Part of this is due, according to Head Coach Aldis Berzins, on the team's ability to play a steady game and not allow any opponent to break away with a lead the Mustangs can't recover.
In a week 7 Interview on the Aldis Berzins Show, Berzins said that one of the more difficult wins came against Messiah on March 22 because of how determined the Falcons were to beat Stevenson in the Mustangs' own gym. Messiah was then No. 2 in the conference. A large crowd in the Owings Mills gym cheered as the Mustangs beat Messiah 3-0 with scores of 25-19, 25-21, and 25-21. Junior Jason Gardner and freshman Logan Smiley had eight kills each, and senior Alek Klunk and junior Landon Shorts each had six kills. Berzins praised the blocking of freshman Nate Reynolds and Klunk and was pleased with the team's service. "This is a great team," he said. "They work hard but have a fun time in practice. I just have to keep them focused," he added.
Against Wilkes on March 24,  junior Landon Shorts became the fifth player in school history to record 1,000 career kills. Berzins described Shorts as a "phenomenally gifted volleyball player who's built like a missile, jumps really high, hits from the back row…and has a phenomenal jump serve." Shorts recorded eight kills that evening, with a .500 attack percentage, nine service aces, and six digs, according to gomustangsports.com.
One game remains on the schedule for the Mustangs before the conference tournament begins. The team will host Arcadia University, now ranked No. 2 in the MAC, on April 7 at 7 p.m.
Berzins intends to take one match at a time instead of focusing so much on the placement and outcome of the MAC tournament, which will begin on April 11. As the top seed, Stevenson is guaranteed to have at least one game at the Owings Mills gymnasium.
Sports Editors Dave Steinwedel and Mike Edwards contributed to the article. 
Donate to Stevenson Villager
Your donation will support the student journalists of Stevenson University. Your contribution will allow us to purchase equipment and cover our annual website hosting costs.