ISA to host annual Taste of Cultures event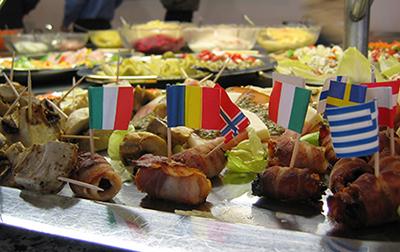 Stevenson's International Student Association (ISA) will host a Taste of Cultures event on April 14, 2018, from 6-9 p.m at the Rockland banquet room. Members of the ISA cook and share a variety of different ethnic dishes that relate to their heritage — hence the name of the event.  Students get a literal taste of what other cultures have to offer, and get to travel the world, all within one room.
The International Student Association is a cultural club seeking to promote diversity within the Stevenson community.  Officers of the ISA include Shaiyke Jordan, president;  Malik Mohammed, head of public relations; I-Sha Hawkins, director of membership; Yasmeen Hilton-Bey, treasurer; and  Priscilla Williams, secretary.
Taste of Cultures is the biggest event the ISA will hold this year. Student performers from the university as well as others around the area will entertain guests.
Not only will this event include dishes from around the world, but there will also be several other activities including games and crafts, as well as a fashion show.
This event is not only important to the members in the club, but it is also important to the Stevenson community as a whole.  Taste of Cultures is a huge event for cultural diffusion on campus, said Williams. "It is a celebration of the things that we all bring to the table."
Mohammed said he hopes tickets will be sold out for this event, and for everyone who shows up to take away not only an unforgettable night, but also a curiosity to learn more about other cultures.
This is not the first time that this event has been held, but this year's Taste of Cultures has something a little bit different added in.  The food will include new cultures, and there will also be a bagpipe performance, usually channeling those of Irish or Scotch descent, and new members coming to join will be welcomed.
Questions about the relationship of a culture's food with the culture itself often spark conversation and lead others to explore and develop broader cultural interests, said Mohammed.
Tickets are available for free at the Rock. Some of the event's included cultures include India, Japan, various African countries, and Ireland.
Donate to Stevenson Villager
Your donation will support the student journalists of Stevenson University. Your contribution will allow us to purchase equipment and cover our annual website hosting costs.