Students have a unique opportunity to hear one of the world's most renowned nature photographers speak on Tuesday, April 17 from 11:30 a.m. to noon.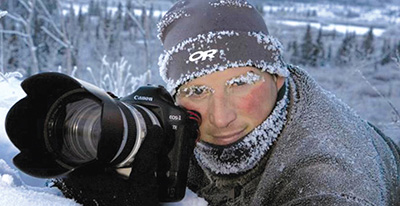 Stevenson sponsors the Baltimore Speakers Series and will welcome Paul Nicklen to campus prior to his speech at the Meyerhoff Symphony Hall. Nicklen, an assignment photographer for National Geographic, is also a highly acclaimed,  popular speaker. His TED Talk, "Animal Tales from Icy Wonderlands," has over 2 million views.
Nicklen gained his love for nature during his childhood when he lived in Baffin Island, Canada. During his experience living among the Inuit people – a small indigenous group that inhabits parts of Greenland, Canada, and Alaska – he gained his love for nature as well as his knowledge of arctic ecosystems.
Nicklen has been honored with over 30 awards throughout his illustrious career. Notably, in 2012, he was named the Wildlife Photographer of the Year by BBC. Additionally, he received a lifetime achievement award from his alma mater, the University of Victoria, for his work and its influence on climate change.
Sue Kenney, Stevenson's chief of staff,  is excited about the prospect of having Nicklen speak on campus.
While this event certainly will be fascinating for photography students, Kenney believes that all students, no matter their major or hobbies, will leave with a valuable experience and knowledge gained from his visit. "Where else do you have the chance to see world-renowned speakers? This event will be interesting for all," Kenney said.
She added that she has noticed that many of the Baltimore Speakers Series speakers who have visited Stevenson in the past, such as Rick Steves, not only come to speak, but to hear from the students as well. She recommends that students who attend have questions created in advance in order to make the most of their experience.
The excitement surrounding this event is reaching students as well.
"Seeing, listening, and even talking to the man behind the camera of some of the most beautiful nature pictures ever taken is an opportunity I simply will not miss," said student Cooper Smelski, an outspoken fan of Nicklen's work.
Nicklen's speech is set to begin at approximately 11:30 a.m. in the Rockland banquet hall on the Owings Mills campus.
The event is expected to last approximately 30 minutes, during which Nicklen will speak followed by a Q&A session with the audience.