The Office of Career Services and Stevenson University Online will host the SU Panel Series: Healthcare Management and Nursing Career Fair on April 24, 2018,  from 6-8 p.m.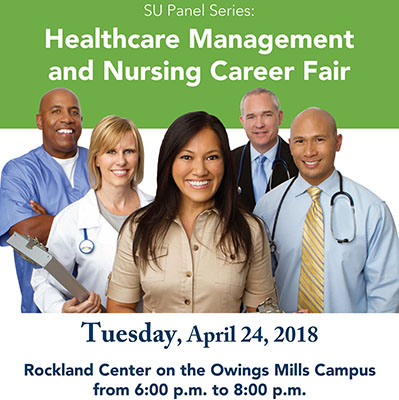 Unlike traditional career fairs, the Healthcare Management and Nursing Career Fair will feature a panel of experts speaking to the students about information on their specific industry. This provides interesting opportunities for current traditional students, graduate students, and alumni, according to Matt Seiler, events and marketing coordinator for the Office of Career Services.
According to Handshake, attendees will get advice on how to advance their career and develop interview skills. Attendees will also have an opportunity to ask questions and network with the industry specialists, faculty, staff, and alumni.
This career fair is featuring 12-15 employers, which is designed to allow attendees to have a more intimate experience.
Companies attending the SU Panel Series are listed on Handshake and include the following:
An RSVP is appreciated and may be made through Handshake, but Seiler said that no one will be turned away at the door.
Since attendees will be interacting with professionals and speaking about potential job offerings, professional dress is recommended. Additionally, students should bring printed copies of their resume.