VillaFest slated for April 26-29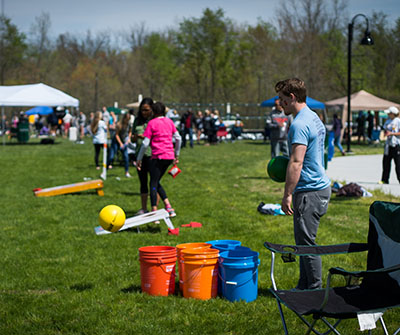 Stevenson University's Office of Student Activities is organizing the annual VillaFest weekend on the Owings Mills campus from April 26-29.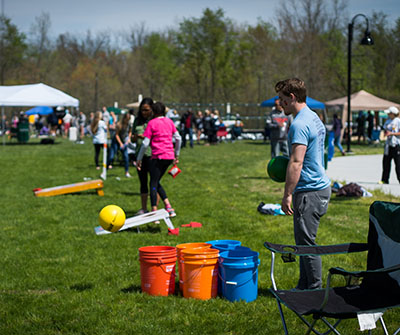 VillaFest is a spring fling event held every spring semester at Stevenson. Event organizer Jenna D'Onza, assistant director of student activities, regards the activities as a "mini-Homecoming." Every year, Stevenson welcomes alumni, students, parents, staff, faculty and friends of the Stevenson community.
According to Allison C. Humphries, the director of Alumni and Constituent Relations, VillaFest originally started as the Homecoming celebration that took place every fall. In the past, faculty, staff and students welcomed alumni back to their Alma Mater for a variety of events and activities. Some of the events that are incorporated into homecoming and family week events in the fall semester during October originated during the VillaFest years.
D'Onza explained the plans to expand VillaFest to a four-day event.
Several of the VillaFest events, planned by Mustang Activities and Programming (MAP), include the following:
Bubble Soccer on Thursday, April 26 in the Apartment Quad from 4-6 p.m.
Karaoke Night on Friday, April 27 at Pandini's from 10 p.m.-12 a.m.
A Foam Party on Friday, April 27 at the Apartment Quad from 9 p.m.-12 a.m.
Other events include the annual Student Leadership Awards Dinner and OLAS' Latin Escape event.
The men's lacrosse team will kick off this year's VillaFest with a home game against Widener College on Friday, April 27 at 7 p.m. Coach Paul Cantabene is very excited about the game because he considers VillaFest a great event to be involved in. The event, he said, emphasizes where Stevenson came from, since its roots in the past included Homecoming activities.
Last year, VillaFest included beach volleyball matches on the sand courts, and the team will once again hold a quad match on Saturday and Sunday against Division II opponent Carson-Newman University, as well as local rivals Towson University and Morgan State University.
The Annual Food Truck Rally will occur on Sunday, April 29 at the Caves Parking Lot from 11 a.m.-2 p.m. Nine food trucks are in attendance. Brick n Fire Pizza, Mexican on the Run and Carnivore BBQ are three returning trucks from last years event. The other trucks include: The Craving Potato Factory, GoGanics, Cream Cruiser, Kona Ice, Deddle's Mini Donuts & Chicken, and The Green Bowl.  The first 300 students will receive 12 food truck bucks, and the next 100 will get 10 to spend at the event.
Humphries said that the Office of University Advancement will host a reunion brunch on the Owings Mills campus on Sunday. The brunch will honor Villa Julie College alumni who set the foundation for the university that the Stevenson community knows and loves today.
Alumni athletes and former honorees will also announce the winners of the Stevie U Awards during the annual Mustang Gala in the Owings Mills gymnasium on Sunday evening from 5-7 p.m.
D'Onza hoped to build on last year's event where both students and alumni brought their families to celebrate school spirit. She would assess VillaFest's success by the number of students in attendance and is hopeful that students attend at least one event during the weekend.
Humphries guarantees that the participating organizers of VillaFest will provide a variety of events for members of the Stevenson community to enjoy. She also hopes that the VillaFest tradition will carry on for years.
News editor Maya Murphy contributed to this article.
Donate to Stevenson Villager
Your donation will support the student journalists of Stevenson University. Your contribution will allow us to purchase equipment and cover our annual website hosting costs.