Seniors reflect on SU experiences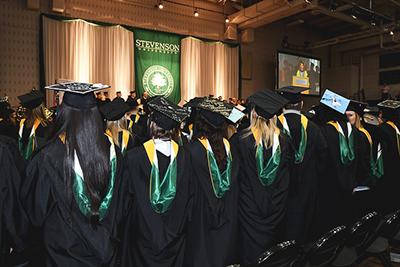 As the 2018 spring semester draws to an end, seniors will look back at their Stevenson experience and ask themselves one question: Was it worth it? Were four years at Stevenson University, considering the classes taken, the countless hours of stress and studying, and the cost of tuition, worth the trouble? According to seniors Shawna Thomas, John Speros Maniatty, Angelica Rae Lackey, and Alli Ailene Culp, the answer is a resounding yes.
Shawna Thomas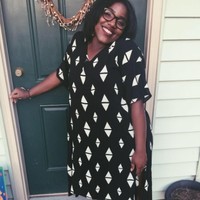 Shawna Thomas is an English language and literature major studying in the School of Humanities and Social Sciences. Thomas fell in love with literature after her high school Gifted and Talented  (GT) English teacher, Kristina Arthur, showed her its interesting side. When choosing colleges to attend, Thomas found Stevenson was the closest to home, but confessed she didn't like the school at first.
"I did not feel like I belonged here, and I didn't feel as though SU was the right fit for me. I didn't see many people that looked like me, but things began to change my junior year. Maybe I opened my eyes," she said. The senior believes the English department has prepared her well. Working under the department chair, Dr. Laura T. Smith, for a semester helped Thomas gain leadership skills.
"In addition, we took a class on how to write resumes and apply for jobs, and that was extremely substantial," Thomas said. After graduating, she will teach through the Urban Teachers program, and will be getting a Masters of Education from Johns Hopkins University.
"My hopes are to create the same impact on students as my professors did these last four years,"  she said. She credits the entire English department for her success, but would specifically like to give a shout out to Dr. Aaron Chandler for constantly pushing her to give 110 percent in everything she did, adding that staying in touch with Chandler and the rest of the English department is "the only option."
Thomas said that her lowest moment at Stevenson will be on May 17, 2018, when she graduates.
"I am anxious about not having office hours anymore, not being able to walk into my professors' doors and vent to them about any and everything. I haven't been coping well. I cry a good bit – ha!" she said. Thomas said that her most special achievements were introducing visiting writer D. Watkins earlier this semester, and finishing her research paper for her Major Authors class last semester. As she prepares to tackle the world after graduation, she suggests that the administration should pay attention to the smaller, lesser known majors, because all majors matter.
John Speros Maniatty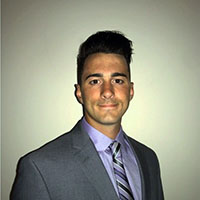 Maniatty is a business administration major on the entrepreneurship track, and has an IS minor in the Brown School of Business and Leadership. He has been studying at Stevenson for the past four years, and was initially attracted to the university for its small school atmosphere.
"The small class sizes and comprehensive business curriculum were what ultimately drew me in. The beautiful campus and amazing dorms were also an added bonus," Maniatty said. He added that business administration has been a versatile major that has given him the chance to choose from a multitude of career paths.
Maniatty admits having mixed emotions about the future. While he will miss the college atmosphere, lifestyle, and academia, he is eager to apply what he's learned in school and see what the future has in store.
"I am a well-rounded individual thanks to Stevenson's business administration program. I have a strong understanding of the many facets of businesses and how to manage/work within them," he said. Maniatty is especially proud of his capstone class group project.
"After hundreds of hours of hard work, my capstone group received a 100 percent on our final project. To my knowledge we are the only group to ever receive a 100 percent on a capstone assignment," he said. On the other hand, Maniatty also believes the courses within the business major could become more focused in terms of content and slightly harder. And while the school has fantastic teachers and the university offers entertaining campus activities, athletics dominate the campus culture. Maniatty gives a special shout out to Dr. J. H. Kucher and Dr. Mark Arvisais for challenging him to be the best he could be inside and outside of the classroom. After graduating, Maniatty hopes to get a job on the business side of the gaming industry.
Angelica Rae Lackey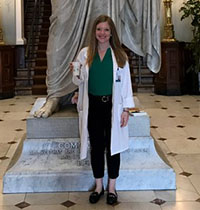 Lackey is a biochemistry major in the Beverly K. Fine School of the Sciences. After receiving her associates degree in science from Central Piedmont Community College, she transferred to Stevenson 2 1/2 years ago. Lackey moved to Maryland in September of 2015 from Charlotte in search of a new, challenging environment which was conducive for unparalleled personal and scholastic growth. She was drawn to the Baltimore area for the Ketogenic Diet Center at Johns Hopkins Hospital, for a new environment, and for a change of scenery that wasn't too cold for the Florida native.  Through Google, with courage, and relying on "a lot of prayer," she decided on Stevenson from the pool of colleges in the Baltimore area. She liked the biochemistry major, the small class sizes  and the generous scholarships. "What was at the time a great leap of faith ended up being one of the best decisions of my life," Lackey said.
The senior is both ecstatic and disheartened at the prospect of graduating. "It seems as if there is a 'void' in my heart," she said. She will be taking a year off after graduation, but has been anxiously  longing for graduate-level coursework for some time.  Lackey sees only positives about her years at SU, even the fact that since Stevenson is so small, it's tough to have an anti-social day.
"You know everyone on campus, and you will walk by every one of your professors approximately once a day!" she said. For Lackey, however, this is an advantage because she believes it has held her accountable and ensures her success.
After graduation, Lackey will be applying to medical school and is planning to pursue pediatrics, devoted to optimizing the treatment of refractory disease by use of metabolic therapies (e.g., the ketogenic diet, modified Atkins diet, calorie restriction, intermittent fasting). Among her countless achievements, two of Lackey's proudest moments include being awarded the Joseph A. Brusini award for Excellence in the Sciences, and being chosen for the 2017-2018 Dell Scholarship. Lackey gives a shout out to Professors Meredith Durmowicz, Ellen Roskes, Rebecca Burgess, and Jeremy Burkett for their part in pushing her to the limit and for developing a relationship with her.
Alli Ailene Culp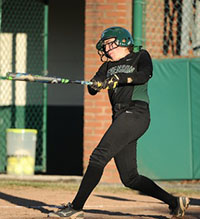 Alli Culp is a middle school math and science education major, with a mathematics minor. Culp has wanted to be a teacher since she was in elementary school, and has a particular love for math.
"I want to help my students have a good experience at school and show them that they can be good at and enjoy math." she said. Culp chose Stevenson University for its small class size, which allowed her to work collaboratively with her classmates and form close relationships with her professors.
"I would definitely recommend the education department to incoming students interested in pursuing a career in teaching. There is a real sense of community within the School of Education. Also, Stevenson education students are placed in a classroom during their sophomore year, which is earlier than other colleges," Culp explained. Her favorite class was Methods of Teaching Middle School Mathematics.
She is a member of the mathematics honor society, Kappa Mu Epsilon, and has been on Stevenson's softball team for four years. Her softball teammates are her closest friends, and she plans on staying in contact with some of the other education majors as well. After graduation, she hopes to get a job teaching middle school math and coaching high school softball. She will be staying in Owings Mills after graduation, and will miss college, but is excited to teach in her own classroom. She unequivocally praised her advisor, Dr. Beth Kobett: "Dr. Kobett is passionate about teaching math and is devoted to her students. Throughout my time at SU, she has been a great mentor to me and all of her students. I will definitely be staying in touch with her after graduation."
Donate to Stevenson Villager
Your donation will support the student journalists of Stevenson University. Your contribution will allow us to purchase equipment and cover our annual website hosting costs.