SU tennis teams share success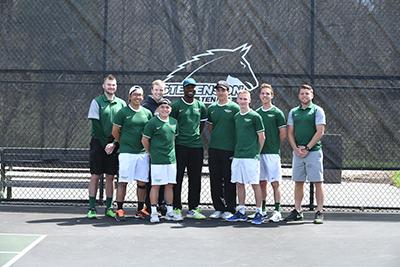 The Stevenson University men's and women's tennis teams have been working hard this season, keeping the Middle Atlantic Conference (MAC) championships in mind as their long-term ambition. Both teams are quickly approaching their goal.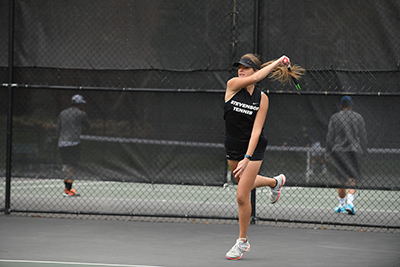 According to Evan Clifton, the head tennis coach, the teams are much improved from last year but there is still plenty of room for improvement. With more matches to go and the MAC championships ahead, the teams are ready to end the semester strong, and are looking forward to continuing into the fall season.
Both teams had many stand-out moments in the season. According to Clifton, "The spring break trip to Hilton Head Island, South Carolina, offered plenty of moments where I really got see the mental make-up of our teams."  For the men's team, the match against Concorida (Wisconsin) was a key moment when the team won a third-set tiebreaker and ended the match 5-4.
"This was a match that really showed that we were capable of coming back," said Clifton. The women's team beat Alvernia University and Lycoming College, which were conference playoff teams last season. Clifton said that these wins showed that the team is ready to earn a spot into the conference playoffs this year.
The season has had some standout players as well. According to Clifton, Ray McDermott, Andre Sturniolo, and Drew Ryan have all won several tough matches for the men's team this spring, and have made a huge impact on the team's success this season.
Team member junior Doug Vaughan said that Stevenson's team is different from other schools because of "how much more we are willing to support each other," adding that Clifton is "very supportive and is always willing to give someone a chance. He is the best coach I've ever had." Though optimistic, Vaughan feels similarly to Clifton in that the team has room for improvement.
"The one thing we all could improve on is just playing with each other and making our play styles flow," said Vaughan.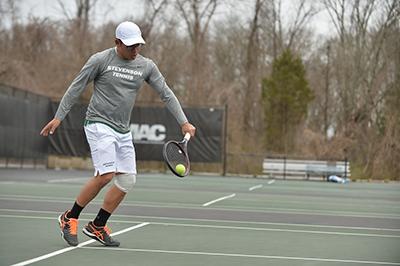 Both teams have mostly young players, but this does not affect the skill level of the team and their ability to compete for the MAC title. According to Clifton, the intensity with which they play belies the team's youth.
Even though the team is doing well, Clifton said there are some aspects they could work on for the fall season, including finding their harmony to work together. Also mentioning, that the team's doubles could be more consistent and hopes to have the athletes train and work hard over the summer.
The MAC championships are right around the corner. Vaughan said, "I'm always looking forward to the MAC individual championship. This is a place to meet new friends from different schools and catch up with old ones."
Clifton said he is looking forward to "accomplishing some program 'firsts' this spring and then taking those a step further next year, just like we are doing this season in building upon and extending the successes from last year."
Donate to Stevenson Villager
Your donation will support the student journalists of Stevenson University. Your contribution will allow us to purchase equipment and cover our annual website hosting costs.