Stevenson football started off conference play with a big win against Albright College on Sept. 15, putting the Mustangs at 2-1 overall as they grind toward winning a Middle Atlantic Conference (MAC) championship.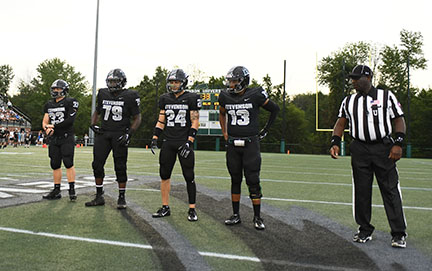 The Mustangs started off their 2018 season against nationally ranked No. 9 Frostburg State (Md.), losing 34-7 in the season opener at home. The following week they were able to bounce back with a win against Bridgewater College (Va.), preparing to take on Albright in the following week.
According to Ryan Larsen, assistant coach and offensive coordinator, the MAC championship is the team's "number-one goal" of the season. The 50-21 win against Albright was a big step for this program moving forward and a huge win for the team.
Senior Dan Williams, a two-year captain and third-year starting quarterback, has begun the 2018 campaign hot, with a significant impact on the success of the Mustangs. Williams threw completions to eight different receivers in the Albright game alone, passing 267 yards that day. The Mustangs also made history that day when sophomore Branden Ribeiro executed a program-record 66-yard punt in the third quarter.
The Mustangs are excited about the Albright win, but Larsen stresses the importance that the team is placing on taking this season "one game at a time," because they only have 10 opportunities to prove themselves in the regular season.
Larsen added that the impact of progression to the post-season on this year's success, and the development of players, is in part due to the impact of Tony Pedrotti, the new assistant strength and conditioning coach.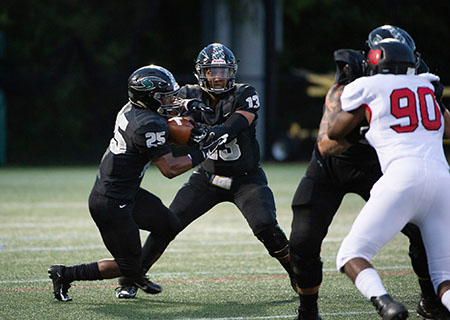 The team also hosted "The Program" in early February 2018, which is a group of retired Navy Seals who led the team through a two-day leadership development program. Larsen explained that this culture shift and strengthening of the team's core will only allow them the opportunity to achieve more.
The Mustangs look to win the MAC championship every year, and this goal seems to be consistently on the minds of players and coaches. Sophomore quarterback Ty Crabb says the team's main goal and excitement is all "about the MAC," since a conference championship can carry the team into the NCAA playoffs this fall.
The Mustangs will face a tough schedule in the 2018 season, playing competitive teams in their upcoming games. The coaches hope that Stevenson can fall back on the leadership of the upperclassmen when facing adversity, and making sure they don't get complacent so they can obtain the goals that they have set out to achieve this fall.
With seven conference games left, the Mustangs will focus on playing their best football each week and constantly improving, working their way to becoming a nationally-ranked team in the upcoming years.
Stevenson continues their three-game road trip Sept. 22 against Kings College (Pa.), and then returns home to face defending MAC champions Delaware Valley (Pa.) on Saturday, Sept. 29 at Mustang Stadium.