Stevenson University's men's and women's swim teams will start the swim season in only a week with their first meet against Widener University on Oct. 6.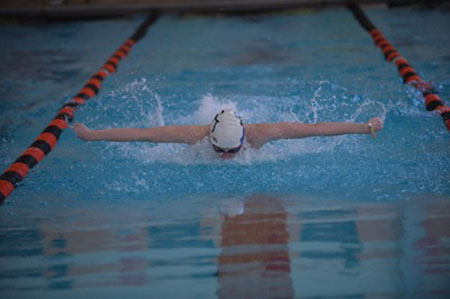 With a bigger team led by John Stuhltrager, more experience, and a clear goal in mind, the team's ultimate plan is to decrease their times and make it to the conference meet.
"They know what it takes to get to win an individual championship, and they know what the pressure is to come back and do it again," Stuhltrager said. He added that he knows the swimmers will not swim their fastest at every single meet, but accepts that because that is not their goal.
"We want to swim really, really fast at the conference meet," said Stuhltrager. This is what the team is striving for this upcoming season.
THE CHALLENGES
With a larger team of 14 swimmers, their first meet is going to prove difficult since they have been practicing in the water for only two weeks. This is one of the biggest challenges, according to Stuhltrager. Since Stevenson does not have a pool, swimmers are only allowed to practice when the conference gives them time, as opposed to other teams who have their own aquatics facilities. This may be an issue especially as they continue to have other challenging meets with smaller schools such as Hood College, Lycoming College, and Gallaudet University.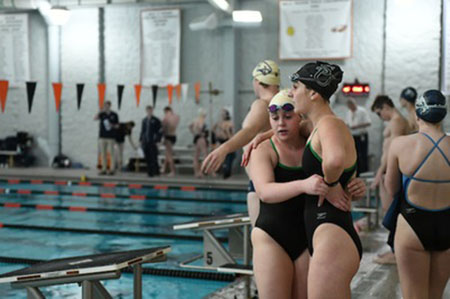 "As long as the team keeps thinking positive in and out of the pool, they will be successful," said graduate assistant Julie McNeil.
With strong races including the butterfly for the men and the backstroke for the women, all members consider themselves one team in unison. It has been about six months since they have raced. The team is looking forward to seeing where they stand.
The senior group has proven to be leaders and will continue to set an example for the others during the season. Members of this group include Julianna Burnett, Isabelle Ramsland, Colby Stein, Natalie Wasicko and Lindsey Weishaar. The coach said that team captains have not yet been chosen but are more than likely going to be from this group. Since these members have been on the team previously, some as four-year swimmers, they know what works and what doesn't for success. They plan to leave the team this year with a strong finish.
Though there are 11 women and only three men, the coach said there is no problem with balance. The women provide a more serious outlook, while the men provide a sense of relief to the stress built up from the sport. McNeil describes the women as having a tight-knit bond that builds them up. This way, each individual brings something different to the team.
Practicing from 6:15-8:15 a.m., five days a week, the team is optimistic about the upcoming season and will continue to work hard to make it to the conference meet.