SU offers interesting courses for spring 2019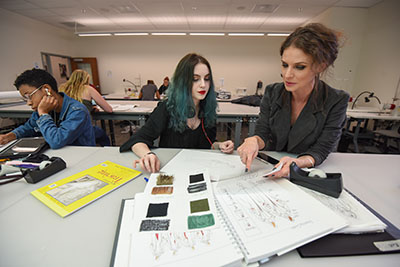 Every semester, Stevenson University offers several interesting courses and electives in each major. Below is a list of courses available for registration for the spring 2019 semester. All course descriptions are from the Stevenson University catalog.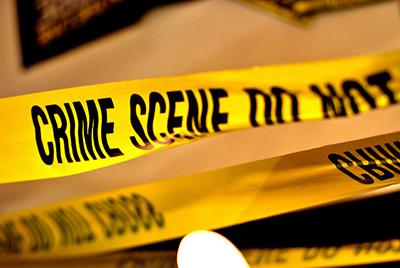 CJUS 285  CRIMINOLOGY
"Examines the nature and extent of criminology. This course places emphasis on past and current theories of crime; typologies of crime; and programs for the prevention, control, and treatment of crime. Students will explore criminal behavior from a variety of theoretical and historical perspectives. In addition, students will develop a better understanding of how crime, criminal behavior, and the criminal justice system are related." Prerequisite: CJUS-101 Intro to Forensic Science
CM 120 HUMAN COMMUNICATION
"Surveys foundations, theories, concepts, and topics from diverse areas in the study of human communication. Students will use these communication fundamentals as lenses through which to explore and analyze human communicative interaction in personal, social, and professional contexts. The inclusion of public speaking, small group work, and other communication focused applications provides students the skills necessary to communicate competently through multiple channels." Offered spring and fall.
CM 260 INTERPERSONAL COMMUNICATION
"Focuses on practice in effective speaking and writing within the contexts of business and related professions. Offered spring and fall."
CM 270 NEW MEDIA COMMUNICATION
"Examines the paths through which new technologies are integrated into society. This course analyzes what new media are, how they originate, and ways in which communication through them presents challenges. It also distinguishes, explores and assesses new media, the ways in which they impact communication, and the skills necessary to understand and consume new media." Spring only.
EC 110  THE ECONOMICS OF PUBLIC ISSUES
"Provides students the opportunity to better understand the fundamentals of economic literacy through the examination of current social topics and controversies. This course will provide basic tools to analyze current public and social issues. These topics include poverty, discrimination, big business, education, and the environment. This course examines the role of government with regards to taxes, national debt, free trade, and entitlement programs."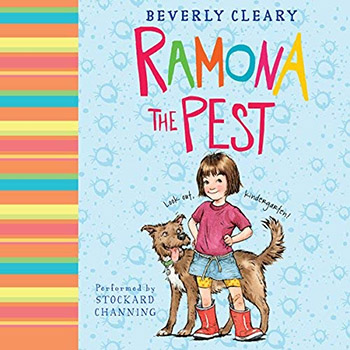 ENG 282 LITERARY GENRES: YOUTH LITERATURE
"Introduces students to a range of literature written for children or for young adolescents and to the critical approaches appropriate to interpreting these works. Students examine the contributions this literature can make to the development of young readers through its ability to dramatize the essential conflicts of childhood and adolescence, to build a knowledge base of historical and cultural information, and to introduce and describe the values and customs of other cultures. Restricted to education majors to or by permission of the English department chair."
ENG 225 TOPICS IN CREATIVE WRITING
"Introduces students to basic literary techniques while focusing on a particular subgenera within creative writing. (Ex.: ekphrastic writing; writing for video games; writing young adult literature.) Students will compose brief original texts in the subgenera and critique them in group workshops."
ENV 165 THE SCIENCE OF THE CHESAPEAKE BAY
"Focuses on the ecosystems and ecological processes that are important to the Chesapeake Bay. Topics covered include the geological formation of the Bay, basic nutrient and chemical cycles, identifying major ecosystems (wetlands, salt marshes, and deep water). Students will learn how all the ecosystems function and interact, the interface between terrestrial and aquatic ecosystems, the importance of watersheds, and priorities for future policy and planning initiatives. Laboratory introduces or reinforces topics that are covered in class. Laboratory included. Restricted to non-science majors Fees: Fees may be required for field trips."
FDES 274  HISTORY OF FASHION ONLINE
"Introduces fashion history research practices that will instruct students in how to identify contemporary fashion sources. The time period of this course starts with 19th century sources and the emergence of the middle class and extends to 21st century fashion culture. In the study of fashion history students will practice and develop their critical thinking processing: comparing and contrasting any given fashion object's form and use over time; identifying a fashion object's aesthetic qualities; evaluating why consumer culture has a desire for and ineffable connections to fashion icons; and exploring examples in fashion history that modified cultural values."
FMI 101 CINEMA I: STORYTELLING
"Introduces knowledge of basic video production equipment, crew functions, and techniques. Students learn and practice the foundational vocabulary of digital filmmaking and direct and shoot various short films of their own, working individually and in groups. Students also learn the principles of basic digital editing. Course includes studio and lecture." Offered spring and fall.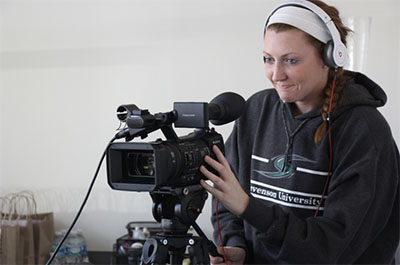 FMI 231 FILM AND MOVING IMAGE HISTORY
"Examines the artistic development of film, television, and other moving image works, from the nineteenth century to the present, by exploring genres, aesthetics, methods of analysis, and current trends. Students study the contributions of major artists and their works, both American and foreign." Offered spring and fall.
FR 115   FRENCH CONVERSATION AND CULTURE
"Offers French language students the opportunity to enrich their classroom experience through interpersonal communication in French and to advance in their oral fluency, listening comprehension, and understanding of the geography and cultures of the Francophone world. Students meet one hour per week to converse informally and entirely in French and to discuss independent projects and journals, current events and media, film, music, art, literature, and more, with attendees from the college community. The course involves three off-campus excursions to various venues of French and Francophone culture. This course is graded on a Pass/Fail basis."
FSCI 100 INTRO TO FORENSIC SCIENCE
"Introduces the various aspects of forensic investigations in solving crimes. Topics include drugs and toxicology, explosives, forensic biology (DNA), forensic chemistry (trace evidence analysis), firearms and toolmark identification, and questioned document examination. Evidence collection and processing in a manner that allows its use in court proceedings will be covered." Restricted to non-science majors.
HIST 230 AMERICAN WOMEN'S HISTORY
"Examines the history of women in the United States from the time of the Native Americans in the pre-colonial era to the present. This course explores how women's roles, status, image, and legal rights evolved due to social and economic change and as a result of the activism of reformers and writers."
HIST 211 SPECIAL TOPICS IN HISTORY
"Examines specialized topics in History, usually centered on a particular theme, person, event, or era. The particular topic will vary with each offering and will be dependent upon faculty and student interest. This course may be repeated for credit.​" Students must take 100 or 200 level history class prior to enrolling in this course.
HSR 101 FAMILY STUDIES
"Explores family forms and issues across the life course in terms of current and historical trends as well as cross-cultural variations. The course addresses marriage and the family, partner selection and intimate relationships, and family crisis and social policy."
HSR 201 HUMAN SERVICES AND SOCIAL POLICY
"Provides an overview of the goals, functions and organization of human services for individuals and groups. Students also examine the major theoretical approaches for helping people in need and the various functions of professionals in human services."
IS 135 OFFICE APPLICATIONS
"Provides students the opportunity to design professional quality business and technical documentation using basic and advanced features of MS Excel including integration with MS Word and MS PowerPoint. Emphasis will be placed on those functions commonly used in the workplace."
LAW 303  MOCK TRIAL (1 credit)
"Engages students in a mock trial experience that includes drafting, revising, preparing, and presenting attorney and witness roles in accordance with applicable case law and rules of evidence. Students from all years and majors may try out for the university's American Mock Trial Association (AMTA) teams. Only students selected to be on the university's AMTA teams may enroll in this course. The teams practice and scrimmage with other universities to prepare for tournaments, then participate in AMTA invitational and regional tournaments."
MUS  260  MUSIC TECHNOLOGY
"Focuses on many aspects of music technology. This course investigates rudimentary principles of sound, acoustics, midi, sequencing, notation, digital audio, the history of electronic music, important composers, and the importance of their composition to the field. This course introduces and explores current software and hardware to compose electronic music." Offered spring and fall.
PHOTO 141  BASIC DIGITAL PHOTOGRAPHY
"Introduces digital photography including the operation of a DSLR camera and introductory level digital photography techniques. Attention will be given to the technical aspects of manual camera control, editing, digital image processing, inkjet printing, and image presentation. Students will learn exposure, digital image enhancement, and preparation of images for print and online viewing. Aesthetic and creative concerns will be emphasized, using photography as a tool for documentation, communication, expression, and emotional appeal. This course also explores making informed choices in composition, subject matter, and framing. Students will need to purchase supplies/materials for this course."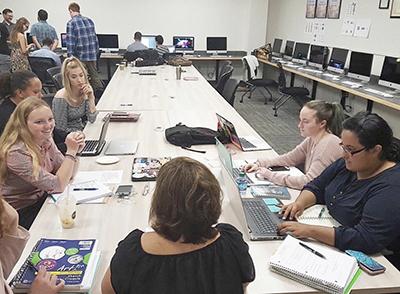 SOD 395  THE MILL- DESIGN CENTER
"Applies communication and design theory and practice to professional client-based work in a dynamic interdisciplinary classroom setting. Students work together as a creative agency (called The Mill at Stevenson University) on varied projects for clients, meeting the client's needs through competent research, innovative strategy, thoughtful design, and the practical application of integrated marketing communication. Using skills learned in previous courses, students in The Mill course offer a range of creative services, which may include advertising, branding, graphic design, media production, design strategy, research, social media marketing, event planning, writing, and public relations."
THEA 224 – PLAY PERFORMANCE
"Involves participation in department theatre productions after auditioning and being cast. Students develop roles and explore the script in a production by exploring genre, author, social context, interpretation, and production style. They may also participate in training related to the specific needs of the production, e.g., use of dialect, period movement, dance, choral speaking, or specific acting styles. Offered in the fall and spring with no prerequisites."
Donate to Stevenson Villager
Your donation will support the student journalists of Stevenson University. Your contribution will allow us to purchase equipment and cover our annual website hosting costs.