Stevenson University's theatre and media performance department will present Oscar Wilde's trivial comedy for serious people, "The Importance of Being Earnest," opening Nov. 1.
When program coordinator Ryan Clark approached Jenny Male about possibly directing "The Importance of Being Earnest" at Stevenson in the fall of 2018, her reflex was to say, "Call me."
"I love the show and it's on my bucket list of shows that I wanted to direct," said Male, who is no stranger to the theater. She has been a theatre and stage movement professor at Howard Community College for over a decade.  She has directed several shows that range from productions of "Into the Woods" and "Spring Awakening" to "How I Became a Pirate." Productions have kept her within the Maryland/D.C. area, but have also taken her outside the area to the Children's Theatre of Charlotte in North Carolina, and the Ozark Actors Theatre in Missouri.
Set in late 19th century, "The Importance of Being Earnest" captures the importance of truth and honesty in a comical way. The pretentiousness of upper-class Victorian society forces John Worthing and Algernon Moncrieff to create fictitious lives as alter ego personalities to avoid social repercussions of their less attractive lifestyles. However, their clever tricks start to become increasingly difficult to keep up with when they insist on proposing and becoming married to the women they love. Twists and turns reveal more than one surprise that emphasize the importance of being earnest.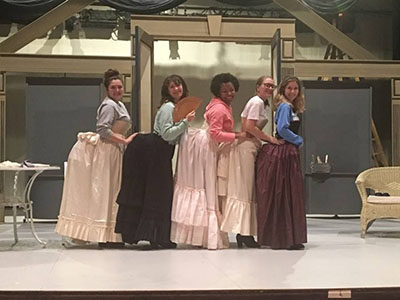 As for Male's adaptation of the show, she said there are a few minor changes she made to the original play. These changes will include two acts with only two set changes, rather than three acts with three set changes. She is also setting the time period 10 years prior than when the play was originally written for. Set in 1885, costumes with bustles, which gave a fuller look to the back of a woman's dress, will be worn, which will add a bit more physical comedy to Stevenson's stage.
Jackson Goodwin will play the role of John Worthing; Algernon Moncrieff will be played by Jordan Brown; Jainaya Rice will play the role of Cecily Cardew; and Olivia "Liv" Dinter will be playing Gwendolen Fairfax.
"The Importance of Being Earnest" opens Thursday, Nov. 1, at 7 p.m. in the Inscape Theatre on Stevenson's Greenspring campus. Performances include the following dates:
Friday, Nov. 2, 7 p.m.
Saturday, Nov. 3, 7 p.m.
Sunday, Nov. 4, 2 p.m.
Thursday, Nov. 8, 7 p.m.
Friday, Nov. 9, 7 p.m.
Saturday, Nov. 10, 7 p.m.
Tickets are $5 for students and staff. General admissions tickets are $10.
For general inquiries, contact Clark through campus email. For ticket sales, contact Laura Holland, assistant to the dean, or for more information, visit the website at http://www.stevenson.edu/about/arts-cultural-programs/theatre/ or call 443-334-2618.