Stevenson's Office of Disability Services provides a place where every student is treated equally, and where students with disabilities can receive the help that they need to succeed.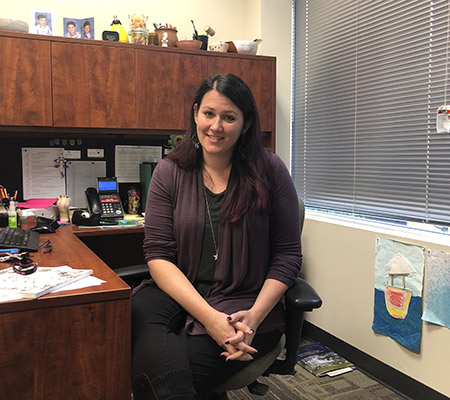 Katey Earle, the new director of disability services, focuses on how to make daily life better for students with disabilities in the classroom, in the residence halls, and in their campus life.
She has had five years of academic experience with students with disabilities at the Maryland Institute College of Art as an assistant director and learning specialist in the Learning Resource Center. Earle worked in academics for five years as a teacher of high school English, and also spent five years at Notre Dame of Maryland University as manager of the tutoring program.
Earle received her bachelor's degree in English and art history from Notre Dame of Maryland University (formerly the College of Notre Dame of Maryland), and her master's degree in education and leadership in teaching from Notre Dame of Maryland University.
Earle came to Stevenson because "it's a great and welcoming community," she said. She also loves to support students and wanted to develop a student-centered approach to disability services.
Earle's job involves helping graduate and undergraduate students with disabilities to help make their lives easier. She said, "My job focuses on providing students with disabilities access to their full academic and residential life experiences and to ensure accessibility within our online systems."
She added that she wants all students to be able to enjoy the same experiences at Stevenson. Earle also focuses on faculty, helping them understand students with disabilities and work with those who need a particular or specialized kind of help.
Earle loves her job, particularly watching students grow and evolve since many are transitioning from high school to college and sometimes struggle with that transition, she noted.  She wants students to be successful and yet be treated the same as everyone else. She prioritizes problem-solving, helping students and faculty learn from interactions and finding success.
A typical day in Earle's position includes meeting with students and faculty, managing the accessibility component, and remaining compliant with the legal requirements that Stevenson has to follow. She enjoys working through student crises and collaborating to find solutions.
Earle is married and lives in Towson with her three children, Gavyn, Ryan and Finn. She loves to travel, read and work on home renovation projects.
The Office of Disability Services is located in Garrison Hall South on the Owings Mills campus and is open Monday through Thursday from 8:30 a.m.- 9 p.m., Friday from 8:30 a.m. to 4:30 p.m., and Sunday from 5-9 p.m.