Esports program takes it to the next level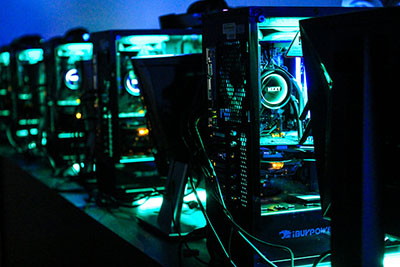 As the fall semester wraps up, Stevenson's eSports program has established its position as a strong contender in the collegiate realm.
Currently, Stevenson has one eSports team. They play in the digital arena of the team-based strategy game "League of Legends." They are actively playing in two tournaments: the Eastern Collegiate Athletic Conference (ECAC) and the Collegiate Starleague (CSL).
The team currently holds an impressive 5-0 record in the ECAC, which is made up of 38 colleges. They also hold a 2-1 record in the CSL.
Coach Jonathon Neely says that the team has been doing exceptionally well in the ECAC; they have been finishing all of their matches in about 20 minutes. For reference, an average "League of Legends" match takes about 30 minutes.
While the record is not as strong in the CSL, Neely says that the team's performance has been just as solid. All of their matches have been particularly close in score. Their recent match against Clemson University was especially competitive, though Neely did note that they still have more room for improvement.
In addition to the team's current "League of Legends" successes, the eSports program is preparing to officially launch into collegiate competition in the game "Overwatch." Over the course of just one semester, they have gone from four players on the team to 12, which meets the "team and a half" requirement to start the program.
The university is in the process of hiring a coach for the "Overwatch" team, a move that is expected to be finalized by the beginning of next semester. No names of potential coaches have been released yet. Once the new "Overwatch" team is officially recognized, they will seek to compete in the Tespa Collegiate Championship, which is currently in its preseason stages.
As for new recruits this year, Neely mentioned one player in particular, freshman Aidan Keagle, who brings some impressive skills to the team; he is currently ranked within the top 300 players in North America.
Taking the "League of Legends" team's strengths into account, combined with their current win/loss record, Neely hopes for the team to make it to finals, a live event that will be held in Albany, N.Y., between the two top teams in the tournament.
There are three matches left in the ECAC and the CSL leagues.
Donate to Stevenson Villager
Your donation will support the student journalists of Stevenson University. Your contribution will allow us to purchase equipment and cover our annual website hosting costs.