Thanksgiving Day is typically notorious for its signature dinnertime feast, but a festive breakfast treat is the perfect way to relish every moment of the holiday while tiding you over until the evening.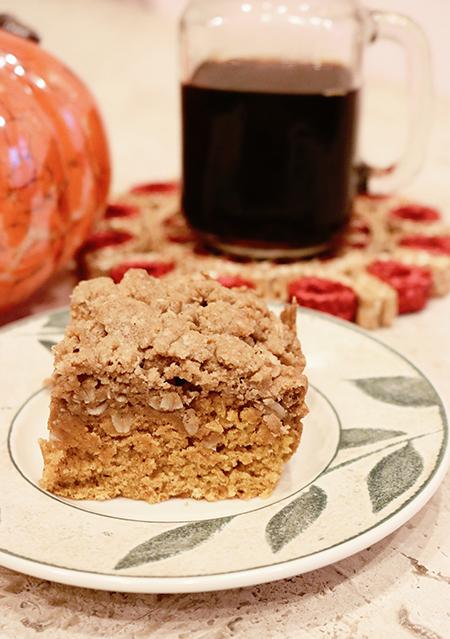 A pumpkin-infused crumb coffee cake integrates the holiday's trademark flavor with a classic breakfast pastry, and pairs ideally with your morning cup of coffee (or hot drink of choice). Plus, with approximately 10 minutes of preparation and 30 minutes of baking, it's simple to make the night before, so it won't be in the way of the myriad of dishes cluttering the kitchen on Thanksgiving Day.
The coffee-cake-with-a-twist is easy to prepare, consisting primarily of basic ingredients that are commonly used in baking. Aside from measuring, mixing and a dash of handiwork, minimal baking expertise or effort is required. Add family, friends, and even a holiday-themed playlist into the mix to make the preparation easier and the experience merrier.
The process involves minimal cleanup, too; lining the pan with foil and using cooking spray ensure that the cake lifts up out of the pan easily, and because of its dense consistency, it doesn't fall apart or create any post-baking mess. The cake cooled and was ready to serve within minutes.
When you remove the pan from the oven, the kitchen fills with the aroma of pumpkin and cinnamon. The end result is equal parts crumbly and moist. The cake itself is dense yet fluffy, saturated with pumpkin, and complemented by the thick layer of cinnamon-packed streusel. For those with a sweet tooth, or for those who just can't seem to get enough of pumpkin this season, this recipe is a foolproof addition to your holiday cravings.
Nonetheless, the pumpkin flavor isn't too overwhelming, and the cake isn't too filling to indulge before a Thanksgiving feast. Even if you don't celebrate Thanksgiving and you're just looking to try something new, this recipe still makes for a savory seasonal treat during autumn or winter. The recipe serves up to nine, but the measurements can be easily doubled or tripled for family, friends and guests.
---
PUMPKIN CRUMB COFFEE CAKE RECIPE
INGREDIENTS
For the crumb topping:
1 cup all-purpose flour
1/2 cup oats
1/2 cup packed brown sugar
pinch of salt
1 1/2 tsp ground cinnamon
8 tbsp unsalted butter, cold, cut into pieces
For the cake:
2 cups all-purpose flour
3/4 cup sugar
2 tsp baking powder
1/2 tsp salt
2 tsp ground cinnamon
1/2 tsp ground nutmeg
1 tsp ground ginger
1 cup pumpkin puree
1/4 cup vegetable oil
1 tsp pure vanilla extract
1/2 cup milk
INSTRUCTIONS
Preheat oven to 350 degrees F. Line a 9×9″ pan with foil and spray with cooking spray. Set aside.
To make the crumb topping:
Mix together flour, oats, sugar, salt and cinnamon.
Add butter and combine with fingertips until mixture is crumbly.
Set aside.
To make the cake:
In large bowl, combine flour, sugar, baking powder, salt, cinnamon, nutmeg and ginger.
In small bowl, whisk together pumpkin puree, oil, vanilla and milk.
Stir into flour mixture until just combined and pour into prepared pan.
Top with prepared crumb topping, lightly pressing into cake batter.
Bake in preheated oven for 30-35 minutes, until a toothpick inserted 2″ from the edge comes out clean.
Cool in pan and enjoy!