Palio Ristorante, located in Foundry Row in Owings Mills, Md., is a fine and casual dining Italian restaurant that has been offering authentic Italian cuisine and great customer service since June 2018.
Palio was named after a famous horse race that occurs twice a year, and the original location of the restaurant opened in Ann Arbor, Michigan in 1988.
Entering Palio, diners will find plenty of seating including tables, booths, and an L-shaped bar, while music softly plays in the background. Outdoor seating is available, weather permitting. Next to the restaurant is a café where drinks, homemade gelato, and dessert can be ordered on the go.
After five minutes in the waiting area, the host/server showed me to my seat. I was surprised that it took five minutes to be seated in a relatively empty restaurant, since it was early for dinner.
The restaurant uses a tablet to show diners the menu. When a name of an item is clicked, a pop-up window appears, and a description of the food and drink is shown along with a photo of what the item looks like, the cost of the item, and for a dish, a recommendation of several types of wine that complement the dish, ranking from the best to worse. The only problem with the platform is that some items on the happy hour menu are not clickable.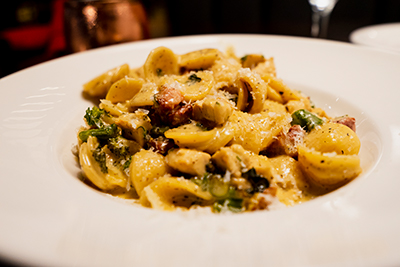 Items on the menu are generally under $30. However, during happy hour (Monday-Friday  3-7 p.m.), a few items cost less than $11.
My server recommended several dishes, but strongly suggested the Orecchiette Carbonara which was reasonably priced at around $16. I also ordered an Affogato for dessert.
While waiting for my food, the server passed my table several times to ask how I was doing and see if I needed anything. I appreciated how attentive the service was since it felt like the servers cared for their guests. Even the general manager stopped by and said hello, adding that college students can come in and study over a free cup of coffee.
After 15 minutes, my meal arrived in a jar with an empty plate. The server explained that the food was prepared inside the jar with an uncooked egg yolk inside. Therefore, her job was to mix the final ingredient in and add the carbonara onto the plate. This provided a unique experience and added some anticipation to a person's taste buds, which diners might not find in other restaurants such as Olive Garden.
I highly recommend the carbonara. The dish looked very rich and creamy filled with bits of broccoli, chicken, and pancetta, a type of Italian bacon, with orecchiette, an ear-shaped pasta. The carbonara tasted exactly like the dish looked: rich and creamy and filled with flavor. Neither the broccoli, the chicken, nor the pancetta overpowered the pasta and the carbonara sauce.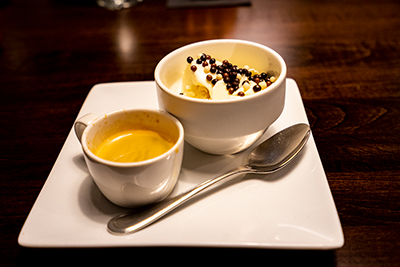 After I finished the entree, my affogato arrived, vanilla gelato with a shot of espresso on the side. As I poured the espresso, the affogato began to foam like a root beer float. Like the carbonara, the dessert was rich, creamy, and sweet.
Overall, Palio Ristorante was a great place to eat authentic Italian cuisine. Despite waiting for a few moments to be seated, the great service and the delicious orecchiette carbonara made up for that lapse. The tablet menu allows customers to quickly identify what they would like to eat. The atmosphere was family friendly while also quiet enough for homework or study. I would recommend Palio for anyone who wants a unique Italian dining experience.
Palio Ristorante is open seven days a week at the following times:
Restaurant hours:
Sunday – Thursday 11:30 a.m.-10 p.m.
Friday-Saturday 11:30 a.m.-11 p.m.
Café Hours:
Sunday – Thursday 11 a.m.-10 p.m.
Friday-Saturday 11 a.m.-11: p.m.
Bar Hours:
Sunday – Thursday 11:30 a.m.-11 p.m.
Friday-Saturday 11:30 a.m.-midnight
Happy Hours:
Monday – Friday 3-7 p.m.
For more information, please visit the website.