Students from the School of the Sciences (SoS) will have the opportunity to feature their academic work at the upcoming poster session.
On Dec. 13, the SoS will host a fall poster session for students to display the work or research that they participated in either during the fall or over the summer of 2018. The poster session will be held on the Owings Mills campus in the Rockland banquet room from 1-3 p.m. Among the majors that will be present include applied mathematics, chemistry, biology, and environmental science.
Research is normally a part of students' capstone projects or internships chosen within the major, but it can also include independent research studies or work through S3RP, the Summer Science Scholars Research Program, at Stevenson. Students may also choose to present multiple posters at the session. Visitors may browse the poster lineup and ask students for an explanation on their research if desired.
"The poster is sort of a snapshot, almost like a thumbprint, of the research papers that students are writing," said Michelle Schwartz, the student engagement coordinator for SoS.
In addition to the public presentation, students must also present their posters and research to professors for a grade.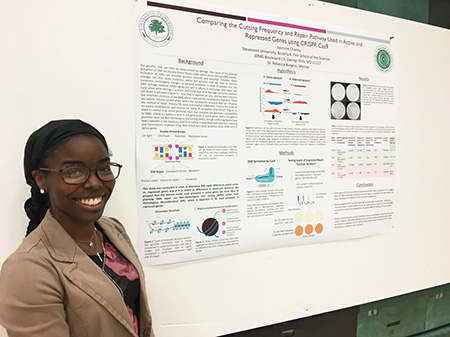 "I always look forward to seeing what our students have done and what they have learned during the course of their research or internship experience," said Ellen Roskes, the associate dean of chemistry, mathematics and physics. "Our students are excited to share their posters with visitors to the poster session and their enthusiasm is always contagious."
Currently, the poster session will include 92 students, though a few posters may have overlap between a student's capstone or internship and their S3RP or independent research. Of these 92 students, 61 will have posters related to their capstone research or internships, and 10 will be presenting research from their work in S3R; 21 posters of independent research will also be making an appearance.
Students will be sharing a variety of experiences at the poster session. One student worked at Johns Hopkins, while another student worked on data science at Santander Bank in Dorchester, MA. Yet another student went overseas and worked at a hospital in Pakistan, taking her experience to brainstorm and plan how to build a similar hospital in another area of Pakistan for her poster presentation.
"This celebrates [the students' accomplishments]," Schwartz said. "It may not be flashy, but these students are contributing to [the advancement of sciences] from one end of the spectrum to the other."