For the Stevenson University football team, Ashton Leschke has been a dependable teammate and captain, while being a crucial member of the Mustangs' defense.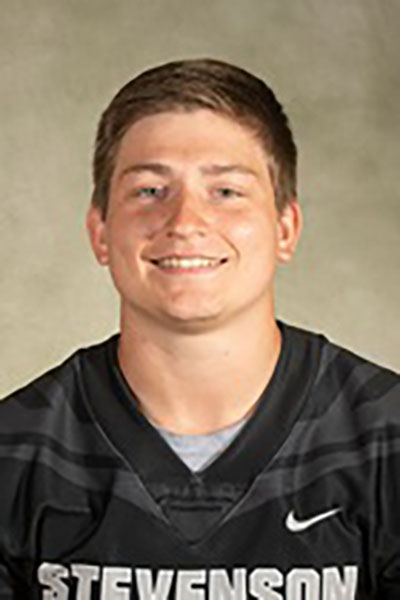 Leschke earned the Middle Atlantic Conference Defensive Player of the Week award for his strong supporting role in the Mustangs' performance against the King's College Monarchs on Sept. 22.
According to GoMustangSports, "Leschke totaled 10 tackles (five solo), three pass breakups, a forced fumble and a fumble recovery in the victory."  His forced fumble and fumble recovery came with just under six minutes remaining in the game with Stevenson holding a 35-17 lead.
"I just had a good week that week," said Leschke. "I had a lot of tackles, understood the game plan, understood what was going on. Everything just kind of fell into place."
Despite his achievements, Leschke almost did not play college football.
"In high school, I was on the wrestling team," said Leschke, "And I had a lot of coaches trying to recruit me for wrestling. But when [Stevenson's] Coach Beard came to talk to me, I was like 'Okay I'm just gonna keep playing football.'"
On the Mustangs, Leschke played inside linebacker, but was also a team captain and leader. "I talk a lot on the field," added Leschke. "I'm the main guy making calls and all that kind of stuff."
In addition to football's physical game, success also comes from studying film and developing a high football IQ. "A lot of people don't understand how much time is put into learning the game," Leschke said. "There's a lot of film, and the coaches spend a lot of time trying to put together a game plan," he added.
Tyler Burton, junior inside linebacker, recognizes Leschke's skill. "He's very smart; he knows where the ball is going before it gets there. That comes from his film study, and just pure instincts."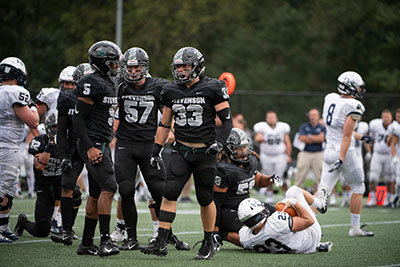 "Since my freshman year I noticed his leadership skills evolve more and more over the years," said Burton. "He has become a tremendous leader, and has taught me a lot of things I will carry over into next season," said Burton.
Since Leschke is a senior, this is his last year with the Mustangs. "We still have a lot of talent on the team," said Burton, "But his leadership role will be the biggest part we will miss."
What Leschke will miss, however, is his bond with his teammates. "Playing with the guys, I enjoy that. Just the camaraderie," he said.
Leschke also recognizes that his coaches always want their players to do better. "If one of the coaches stops talking to you, stops trying to make you a better player…they're done trying."
Reflecting on his experience, Leschke offers advice for players who are working hard.
"Don't be like me. Don't think that you're better than you are. Don't think that the world has it out for you. Get in the weight room. Most of the time the strongest players are going to be out on the field. Take that strength training out on the field. When you practice, it's all going to correlate on how you become better."
The Mustangs ended their season 8-3, making this one of their strongest seasons yet. In future years, the camaraderie and communication strengthened by Leschke and others may continue to be a part of Mustang football.
Sports editors Tim Craig Jr. and Savana Herndon contributed to this article.