The Stevenson football team ended its regular season with a 34-0 win against Fairleigh Dickenson University at Florham.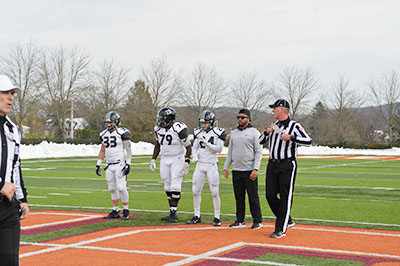 Despite not making it to the Middle Atlantic Conference playoffs, coming in second place in the MAC was enough to secure the Mustangs a spot in a post-season bowl against Centennial Conference runner-up Susquehanna University in Stevenson's fifth straight bowl appearance.
Losing the 2018 Centennial-MAC Bowl Series 17-7 on a cold, rainy afternoon did not dampen the team's spirits, as they concluded the season with an 8-3 record.
This record can be attributed to many things, but living by 'the C.O.D.E' has helped the team keep their eyes on their goal. The team's mentality for practices and games can be summed up in one acronym: C- commitment, O- ownership, D- discipline, and E- effort. In the past, coaches have told the team to focus on one word of CODE each week before the games; sometimes they focused on ownership, other times on effort, but the team spent their season living by the CODE.
This approach became even more important when there was an upset in the dynamic of the team. Dan Williams, a fifth-year senior, was the Mustangs' starting quarterback until a serious injury sidelined him during a game on Sept. 29 against the Delaware Valley University Aggies.

"He got hurt in a season-ending injury, so then we had a sophomore quarterback, Ty Crabb, starting," said Riley Hodge, a junior tight end. Losing Williams, the quarterback and leader, hurt the team, added Hodge. But Williams was still at every practice, leading through example. His injury also led the team to come together more than they had in the past—creating a dynamic of even more trust among the players.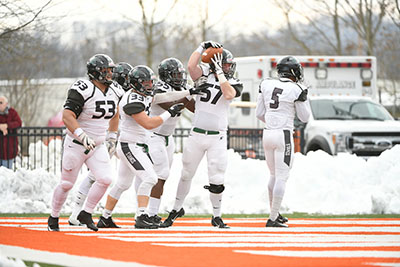 Stevenson football is now done for the year, but the coaches are already planning how to tackle next season. Offensive coordinator Ryan Larsen, who was just selected to coach the U.S. under-18 team for the International Bowl Series, said he has strategies to "replicate the success" that there has been in the past. "We want to get stronger and more explosive in the weight room as a program," he added.
With plans already in place, next season for Stevenson football is on the track to victory.  Larsen believes several of his offensive players will be players to watch, including Chaz Lyles, Vincent Lee, Titus Johnson, Kevin Joppy and Hodge. Working on consistency is key in the run and pass game, Larsen said.
The seniors are now done their college football careers, and it is up to everyone else on the team to help maintain their legacy as the Mustangs head into the off-season.