The Mustang Activities and Programming (MAP)  will host the second annual Frost Fest event to celebrate the holidays. This year's event will feature crafts, activities, food, prizes and giveaways.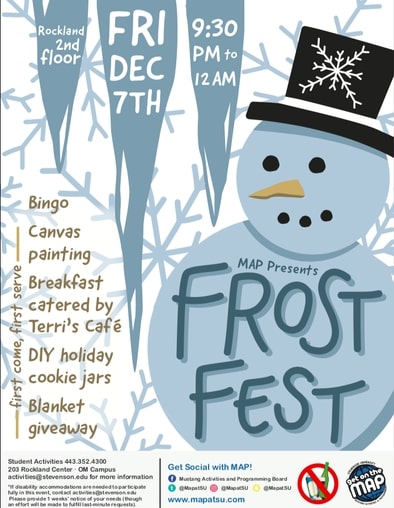 Frost Fest will be held on Dec. 7 from 9:30 p.m. to midnight in the Rockland Banquet Room. Students can participate in a variety of activities, which will give them opportunities to win a number of prices, including a holiday-themed basket, MAP trip tickets, and a Stevenson swag basket. There will also be a blanket giveaway.
Some of the activities that will be offered at Frost Fest include bingo, canvas painting, and personalized cookie jar making.
Terri's Café, a small business located on Cronhill Drive in Owings Mills, will cater the event, as they did last year. The menu for this year's event is breakfast food and will include pancakes, scrambled eggs and bacon.
Maya Murphy, a former member of the MAP executive board, said that Frost Fest was one of her favorite events.
"Last year was the first year we hosted the event, and it was amazing," she said.  "Being the vice president of social media meant that I was able to photograph everyone's smiling faces, and it really brought holiday cheer to Stevenson before finals week. I have no doubt that MAP will do it again, and host such a fun event for students."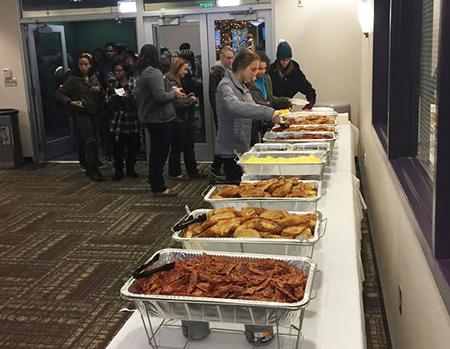 MAP helps to provide a memorable college experience through student-run events. The group meets every Friday afternoon to discuss ways to make the college experience at Stevenson more engaging for both on-campus and off-campus students, according to the MAP website.
Senior interdisciplinary major Tiffani Mills said, "MAP is a super inclusive club on campus that's open to everyone and relatively easy to join. They have weekly meetings about events to keep everyone informed. Everyone is friendly and has the same common goal of making sure student events are fun, so it is very easy to get along with other students that are also attending the event."
Murphy recommends that students get to the event early to ensure they are able to create crafts and get food.
Disability accommodations are available for students who make requests prior to attending the event. More information can be found by contacting the Office of Student Activities, visiting the MAP website and following the MAP Facebook page.