The Stevenson University men's ice hockey team knows what it takes to be tough and play with grit. Coming off a MAC championship title run in 2017, the Mustangs are looking to repeat as conference champions in the 2018-19 season.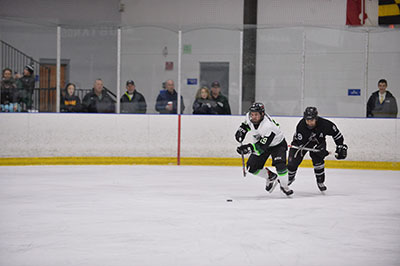 On Nov. 23 the Mustangs took on the defending national champions, St. Norbert College (Wisconsin). The Mustangs lost 3-0, but believe that the score does not tell the story of that game. The Mustangs played well in a game that should have gotten out of hand quickly. St. Norbert had 33 shots on the goal and managed to net only three of them.
"With this being our third year of having a program, we were able to do some pretty remarkable things. We have no seniors on this year's team, which I think is a very beneficial edge," said head coach Dominick Dawes. "We have what it takes to complete our goal of competing for a national championship."
The men's ice hockey program at Stevenson started three years ago, so a majority of the team are juniors with a few first-year and sophomore players.
The Mustangs are currently 5-5 with five conference matchups left to play. An early season win against Morrisville State University (NY) (4-3) and an overtime victory against Chatham University in Pittsburgh (5-4) gave the Mustangs a boost of confidence going into November. Subsequent wins came against King's College (5-1), Neumann University, (4-3) and Lawrence University (1-0).
Other losses were to Wilkes College (4-2), Manhattanville College (3-2), Utica College (7-1) and Nazareth College (5-2).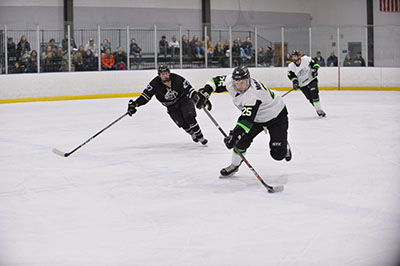 Two of these are against Lebanon Valley College on Dec. 7 and Feb. 25. The Mustangs finish conference play against Kings College on Jan. 25, play Wilkes University again on Jan. 26 and Manhattanville College for a second time on Feb. 2.
"What determines our fate is us and how consistent we can be. I think if we can find a way to be consistent game after game, then we will accomplish the goals we set out to meet," said Dawes.
"We count on our captains to do a lot for our team. We expect them to hold everyone accountable. Everyone on this team has a role, whether it's a captain or someone who might not see the ice as much as others. Everyone has a role, and if everyone can contribute effectively, this team will be in good shape," he added.
The Mustangs' next home game is Friday, Dec. 7 at 7 p.m. against Lebanon Valley College, at the Reisterstown Sportsplex.  The game is a Middle Atlantic Conference (MAC) match-up.  The Mustangs are back on the ice the following day at home at 3 p.m. against Elmira College.  For more information regarding the games, visit Gomustangsports.com.
Sports editors Tim Craig Jr. contributed to this article.