The Admissions Office at Stevenson University gives prospective students an opportunity to experience a day in the life of a Mustang during one of the three fall term open houses. Hopeful students can expect a tour of the campus, informational sessions on various academic and recreational programs and much more.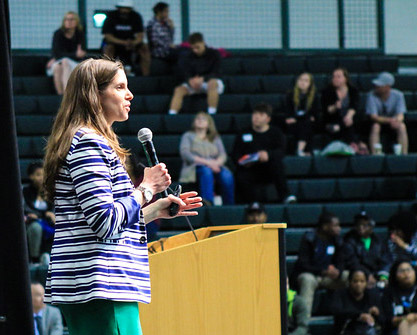 After students arrive, they are separated by their intended major and taken to an academic informational session. Kayla Vaeth, a first-year elementary education major, recalls meeting her future professors during this time.
"Everyone was extremely welcoming. The opportunity to mingle with potential professors strongly influenced my decision to become a Mustang," said Vaeth.
In addition, open houses give students an opportunity to learn about a variety of sports, clubs and other activities.
Piper Connors, a second-year legal studies major and volleyball player, said, "Stevenson is so much more than its academics. The school gives students an opportunity to get their degree and participate in a variety of activities they enjoy."
One of the last items on the open-house agenda is an informational session on scholarships and financial aid. Sarah Straub, a first-year biology student, remembers learning about the honors program at SU during this session.
"I had an opportunity to meet with an admissions counselor and talk about the program," said Straub. Students interested in SU's honors program will have time to learn about the workload, the benefits of the honors classes and the courses offered during this session.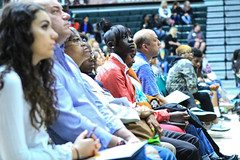 After brunch at the Rockland dining hall, potential students and their families have an opportunity to tour the campus in groups with a student ambassador as their guide. Both Vaeth and Straub agreed that as soon as they started their tour, they felt at home.
"I really saw myself at SU during my tour. Admissions and their ambassadors do a great job at helping you picture your future with the school," said Straub.
Vaeth, Connors and Straub all believed that the open houses are beneficial; however, admissions directors provide prospective students with even more resources. Vaeth, a graduate of Winters Mill High School located in Westminster, Md., also met with SU admissions representatives who traveled to her local high school.
Straub recalls immediate and open communication with admissions counselors through email, text and phone. She also explained that the admissions office was extremely helpful during her application process and answered her questions in a timely manner.        
Future students interested in SU can attend this year's open houses on Sept. 28, Oct. 26 and Nov. 23, or visit the school's website for more information.