Stevenson University's field hockey team has been resilient after facing adversity in the beginning of their 2019 season.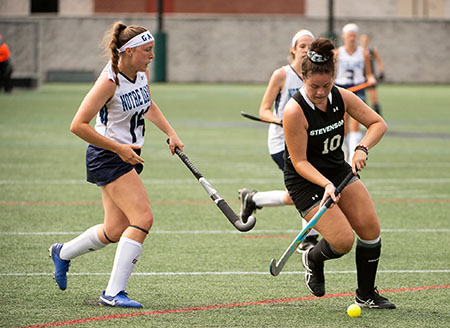 The Mustangs currently are 2-5, including a 9-0 win against Notre Dame of Maryland University and a recent 8-0 shutout in their game against Lancaster Bible College (Pa.), according to gomustangsports.com.
In both games, sophomore forward Kaitlin Karns netted three goals which puts her at six points for the season. Junior forward Anna Bauer also scored two goals in each of the big wins, putting her at four points for the season.
The Mustangs were dealt three losses in a row against nationally ranked No. 4 Salisbury University, Washington College (Md.), and The Catholic University of America. The Mustangs had to adjust to the graduation of a big senior class in 2019, losing most of their starters, according to junior midfielder Jean Hart.
Though the Mustangs responded well in their home game shutout against LBC, they lost a tight 1-0 fight to Shenandoah University (Va.) on Sept. 14. In that game, senior goalkeeper Kelsey Eure earned a career-high 14 saves as she held the Mustangs in the close game.
Laurel Martin, head coach and former Olympian, said the team plans to take each game one step at a time. The team looks to possess and connect as they move forward with their season, and they have adjusted their system to play toward their strengths and utilize their dangerous forwards. They are working to be more attack-oriented and increase their overall speed of execution, Martin added.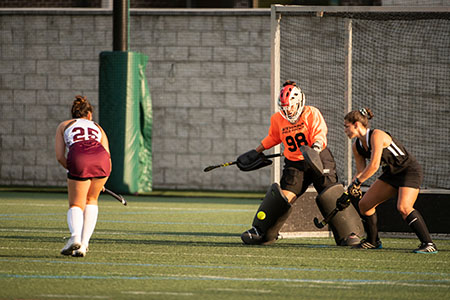 The coach said there is a lot of leadership from the team's defense, and two devoted senior captains Ashley Glatfelter and Eure help to guide the team culture. Martin said they both have many games under their belt, so their experience adds to the their strong defensive unit, crucial to the Mustangs' success.
Looking ahead to conference play, Martin said all the games will be a fight of who wants it more. She said the games are mostly "50/50 battles," so the Mustangs have to put grit and passion into their performances no matter who the opponent is as they continue their season.
The Mustangs still have two weeks to prepare for conference play, in which they will compete to make the Middle Atlantic Conference playoffs.
After the Mustangs face No. 2 Rowan University (N.J.), on the road, they will come home to play Centenary University (N.J.) at Mustang Stadium on Sept. 21.