Students will see the Owings Mills North site expand in the next few years as new facilities are developed to help enhance the educational experience at Stevenson.
In addition to the Manning Academic Center and the School of Design, plans for the campus include the addition of one 55,000-square-foot building to include a new two-story library, a black box theater, and faculty offices. Michael Stanton, vice president of finance and administration, said the goal is to make Owings Mills North the focus of academics for students as the majority of classes are already being held at that site.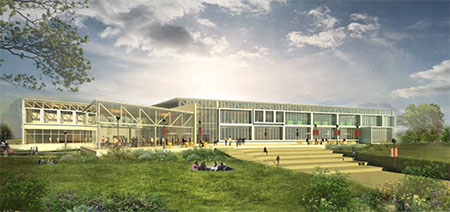 The new library, will contain multiple study rooms, soft seating collaborative space, updated technology, and a large print collection, will help increase study space, provide resources, and promote team-based learning for students, according to Dr. Cheryl Wilson, dean of the School of Humanities and Social Sciences. She added that this new library is "being designed with an eye to being that central space that complements what is already over there."
The theatre and media performance department will benefit from a new black box theater containing space for seating approximately 150 people. The design of the black box will allow for creativity as it can be configured in multiple unique ways for different performance opportunities.
In addition to this space, there will also be a scene shop and costume shop for pre-production work. A classroom for acting studies will also be included to provide an open space for rehearsal and to practice film work. Wilson said that the new theater will allow students in the major to work in a space that will look similar to the type of theater they may see in their future careers.
The remaining space will contain offices for approximately 35 faculty members and adjunct professors. Faculty who were previously located on the Greenspring campus will be transferring over to Owings Mills North once the new offices are built. Stanton said that this will make it easier for students to meet and interact with faculty as that is a critical part of their educational experience.
According to Stevenson University's website, site development for this project is expected to begin during the 2019-20 school year. This new space will not only provide students with many new educational benefits and opportunities but will also promote the ability for collaboration between academic departments.
Wilson said, "Having all of the academics in one place where students can walk to is going to make the student experience a lot easier and more organic, and give students more time for studying, socializing, and sleeping, and less time going back and forth on the shuttles."
More information about the new project can be found on the Stevenson University website or on social media accounts. Updates will continue to be shared as the construction process moves forward.