The Stevenson University math and physics department will offer an on-campus escape room to all students interested in challenging themselves by finding clues and solving puzzles from Oct. 21-30.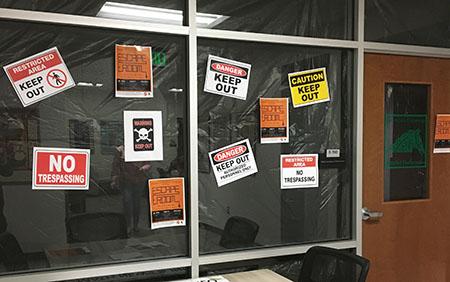 An escape room features a group of people who enter a room designed around a specific theme. The goal is for the team to work together to find clues, hints, and solve puzzles within a short amount of time. Each team competes against other teams in order to escape the room in the fastest time possible. The student team who does so will get their names engraved on a plaque outside the math lab.
The escape room is open to all students, and groups can be comprised of a combination of students, faculty, and staff. The whole experience — including the story, clues, and construction of the room – was created by assistant math professor Dr. Ben Wilson and associate physics professor Dr. William Hodge over the summer so that it would be ready for students in October. Both Wilson and Hodge will be present in the room with the groups to answer questions, give hints, and watch.
"It's really cool to see different ideas people have and ways people think of connecting different things," said Wilson.
While this year's theme will be "Escape the Island" and offers some pirate-related clues, it will still take place in the math lab (room S150). The puzzles and clues can be solved by anyone with a mind for puzzles. They are not math or physics related such that non-majors will not be able to solve them.
Daniel Belanger, a 2018 escape room winner, said, "The puzzles were of the right difficulty where it was challenging enough but not too difficult. It's fun and I'm glad they do it,"
The inspiration for this event came after Wilson himself attended an escape room in Towson. He left inspired, thinking about ideas for building his own escape room and brought the idea back to his department, where Hodge was happy to help provide this opportunity to students.
"It's neat to get to experience students working through problems, and also seeing people have a good time and work together as teams," said Wilson.
There are limited spots for this event because of the time it takes for teams to complete it, as well as the time it takes to reset the room for the next group. A link to signups is here.