The Office of International and Off-Campus Study provides students with the opportunity to continue their education while experiencing a different culture, creating a well-balanced experience.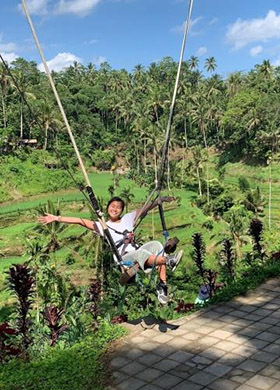 Lauryn Davis, a student assistant in the office who studied abroad in Ecuador, explained that by immersing themselves in a different culture, students can gain a new perspective on the world around them. She said she had to step out of her comfort zone in order to adapt to the different lifestyles in Ecuador, but doing so helped her improve her communication skills, understand different teaching techniques, and allow her to explore things she would have never considered.
Kaitlyn Walsh and Niki Kelley are also student assistants in the office, and said their experiences impacted their personal growth after traveling abroad. They said they came back changed for the better. Kelley said after her trip to Spain, she was more than confident that she wanted to become a nurse. Walsh traveled to Italy, and found a new sense of independence as it took a lot of work, focus, and courage to plan and attend an entire summer trip to a different country.
But traveling abroad is not just for certain programs or courses. Davis explained that it is a common misconception that if courses are not offered in a particular major, students cannot go. In reality, she said, many SEE requirements can be fulfilled by traveling abroad.
Students can also enroll in internships abroad. SU student Amber Deter interned in Iceland for the company Global Treks and Adventure and helped to publish a trail guide book for Iceland. She described it as a "big learning process" because she built confidence in herself and her abilities, and benefited from the experience of getting to work on a team with people from all different backgrounds.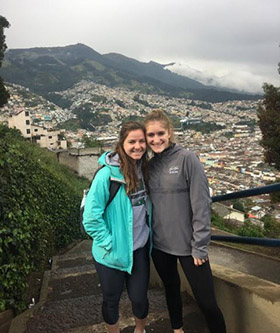 Students who want to travel abroad have many ways to go about it. They can enroll in a travel course; generally organized by Stevenson faculty and held during the winterim, spring break, and summer terms. They range from a week to two weeks. There are also affiliate programs in which Stevenson partners with other universities or third-party providers that allow students to choose from 15 different countries and travel for three to four months, whether during a semester or in the summer.
One of the many reasons students do not travel abroad is that the financial burden is daunting. Davis, Walsh, and Kelley explained how Stevenson and the third-party providers were all extremely helpful providing information on financial aid, whether they would supply a scholarship themselves or had resources about where to find scholarships. Walsh strongly recommended that students be willing to do some outside research, but also not be afraid to ask questions, because there is always someone in the office to help.
Students who want to find out more information about traveling abroad can go to the Stevenson website, or visit the Office of International and Off-Campus Study located on the first floor of the Garrison Hall South. Students can meet with Dr. Rebecca Pisano, assistant dean of global and experiential learning and study abroad.