The Center for Diversity and Inclusion, in collaboration with Arts Alive!, is bringing a new event series to Stevenson University.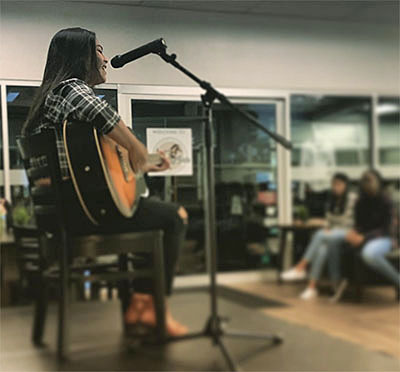 Set to take place once a month in the Garrison Hall coffeehouse, the coffeehouse events will serve as an outlet for students and staff to showcase their artistic talents and hobbies in a supportive environment.
On Sept. 19 the inaugural coffeehouse event was hosted as an open mic night, honoring Hispanic-Latinx Heritage Month. Fourteen students showcased a variety of talents through music and poetry acts – with about 50 people attending the event, said Garcia.
The ultimate aim of these events is to "celebrate diversity through art while bringing campus community together in an informal, entertaining yet educational manner," according to Cristina Garcia, the director of diversity and inclusion.
Garcia noted that throughout the duration of the first coffeehouse event, the energy "was fantastic," and the "bravery shown by students as they tackled stage fright [being] contagious."
Student feedback for the first coffeehouse event was positive. "Everyone that went was really supportive," said Anye Woods, a student who attended the event. "It was a very welcoming environment… reminiscent of what a college campus is supposed to be like. [The coffeehouse events] would be a nice tradition to have on campus."
The next coffeehouse events for the fall semester are scheduled to take place on Oct. 24 and Nov. 21.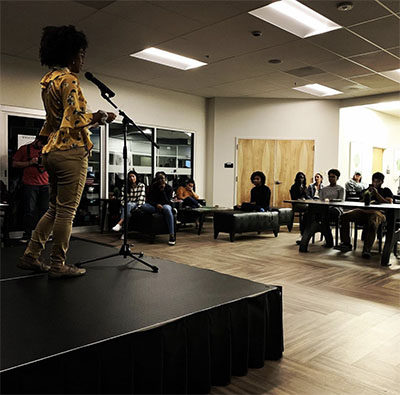 The Oct. 24 coffeehouse event is set to be an open mic night honoring the LGBTQ community and celebrate National Coming Out Day. This event will also be hosted by singer and songwriter, QueenEarth, Garcia reveals.
Garcia also mentioned that Jason Summers, one of Stevenson University's resident directors, will host the Nov. 21 coffeehouse event honoring indigenous communities.
For the spring semester, while exact dates are not yet solidified, coffeehouse events are scheduled to occur in February, March, and April – with different themes featured for each.
The February coffeehouse theme will center around Black History Month and the March coffeehouse event will focus on Women's History Month. April's coffeehouse event will highlight National Deaf History Month. Garcia hopes to find a sign language interpreter to sign all of that evening's performances.
Anyone – from students to faculty and staff – are encouraged to participate in the coffeehouse events. If any individual, club, or organization wants to get involved with the events, or reserve a performance spot in a future event, they are encouraged to email the Center for Diversity and Inclusion at [email protected], or email Garcia at [email protected].