Stevenson University's theatre and media performance department will host a stage combat workshop in the Inscape Theater on the Greenspring campus Oct. 18 at 3 p.m.
Jenny Male, who has worked closely with Stevenson's theatre department, will teach the workshop. In the past, Male has directed and choreographed the play, "The Importance of Being Earnest" at Stevenson.
Male is a theatre and stage movement professor at Howard Community College. She is certified as a fight choreographer and is a member of the Society of American Fight Directors (SAFD). In addition, she is also a dance and intimacy director.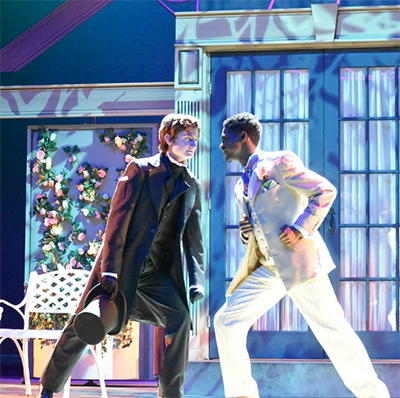 As an intimacy director, she teaches actors how to appropriately touch, kiss, and physically interact on stage. Male has done many workshops on the topics of fight, dance, and intimacy all over the country.
The objective for this workshop is to "provide Stevenson students a chance to participate and learn about stage combat," said Ryan Clark, professor and program coordinator for the theatre and media performance program.
Another purpose for the stage combat workshop is for students to learn how to be safe while acting in scenes with physical activity. Clark added, "Theatre and film majors could benefit from it because they will learn how to safely fight in a scene."
Senior theatre and media performance major Tiffany Ko said, "I would like to learn what the best practices are when staying safe on stage. I think one of the biggest misconceptions of fight choreography is that the actors are allowed to just go at it without restraint, but one of the most important things in fight choreography is safety."
The workshop is free, and anyone, regardless of major, is welcome to attend. According to Clark, "One of the purposes for this workshop is to enhance the theatre and media performance program. It gives the Stevenson community something to do other than coming to see a show."
Ko is planning on attending the workshop with friends.
"Non-theatre majors can benefit from this workshop mainly because it's fun! It's fun to fake punch someone, despite how violent that sounds. Also, the good thing about fight choreography is that it's never a solo performance. There's always a partner involved, and it's always more fun to do with friends," Ko added.
If the workshop is well attended, the theatre and media performance program will continue to host more workshops. These workshops can range from fight choreography, to musical theatre dancing, and even acting. For more information about this workshop and other Arts Alive! events, students can check the Stevenson portal for a full calendar.