This semester, the Integrated Marketing Communication (IMC) class is completing an advertisement marketing campaign pitch to the Baltimore Ravens regarding the expansion of the Ravens Flock college club.
Ravens Flock is a club sponsored by the Baltimore Ravens where fans can meet and discuss the team, watch games, and learn more about National Football League (NFL) organizations. The club is an opportunity to build connections with professionals in the sports industry in all divisions from business to medical careers.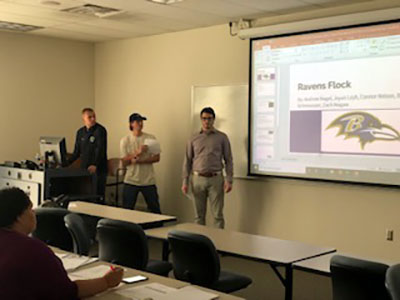 The groups in the marketing class taught by Dr. Takisha Toler, associate professor of marketing, used research and knowledge from the course to create a marketing campaign strategy for the Ravens Flock college club. Ravens Flock promotes a social atmosphere with a look into the sports industry. The club is the first of its kind to be associated with the Baltimore Ravens on a college level.
The project involves "the class working as a consulting company for the Ravens," said Toler. The groups will be responsible for all aspects of the marketing campaign taught in the class, including target marketing, strategies, and tactics. The groups consist of four to five students, and the project gives them real-world experience with integrated marketing communication as they work to expand awareness of the Ravens Flock.
The IMC class is taught by Toler, who has been conducting a project similar to this one for the seven years she has been working at Stevenson University. The students have been working in groups as a marketing firm with one specific group having their client be the Baltimore Ravens.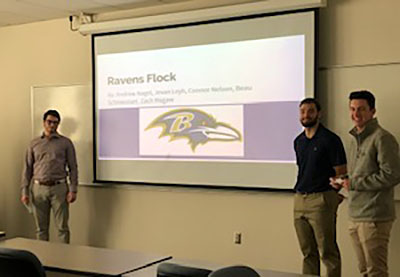 The Ravens decided to "expand awareness and brand loyalty among the target demographic of college students," according to Toler. This expansion aims to teach students about marketing in a large industry setting. Through this tried and true project, students get real clients and can pitch possible solutions.
During the semester, the group of students practiced a pitch of their campaign presentation and then give a final pitch to the Baltimore Ravens. Andrew Nagel, an IMC student who is a member of the Ravens Flock marketing campaign group, stated how the first pitch was good practice to gauge where they are and where they need to get to pitch to the Ravens.
The marketing skills the students learn in Toler's class will help them fulfill the Baltimore Ravens' goal for their flock on the Stevenson University campus.
With the Ravens Flock growing on the Stevenson campus as the inaugural institution for the club, the Baltimore Ravens have ensured a relationship in the school. The opportunities brought to the club allow for courses like Integrated Marketing Communication to experience a large company partnership and will benefit the students in the long run, said Toler.