Stevenson University has been working to continue to foster an environment that is inclusive for all students, staff and faculty. The reintroduction of safe space training has helped to educate staff and faculty on the LGBTQ+ community at Stevenson.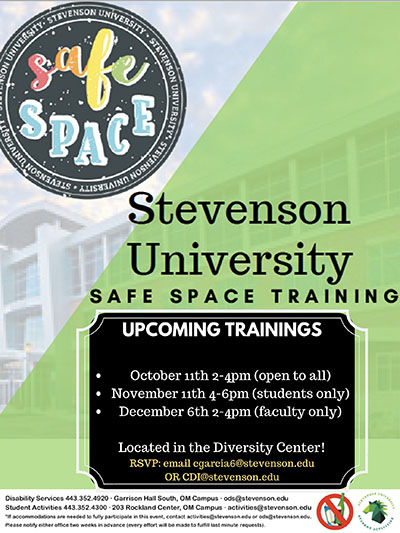 Cristina Garcia, director of Diversity & Inclusion, has been working with the Stevenson community to properly implement safe space training in all areas of the school. Garcia said that this training will teach the "basic terminology relevant to the LGBTQ community, why it matters, and how to be an ally."
Many LGBTQ+ members of the Stevenson community may feel alienated by the erasure of their sexuality or gender in everyday conversations. According to Garcia, learning how to navigate aspects of the world that we may not be aware of is vital to developing an inclusive environment.
Stevenson University is a diverse institution that includes people from many different backgrounds. Rather than avoid difficult discussions, Garcia said, "It is important that we accept and celebrate people for who they are…just in our everyday actions."
Garcia is playing a lead role in revamping the safe space training at Stevenson. She said that the new training is updated to be "more relevant for students," and will include more engaging activities.
This revamped training was developed with the help of community members. Garcia said that she met with the head of "LGBTQ+ Life" at a local university and also studied the specific safe space training programs of other universities with the intention of creating an effective program at Stevenson.
To ensure the success of the program, those who undergo safe space training are asked to evaluate the training. "Learning outcomes are a way that we go back and measure [effectiveness] using evaluations," said Garcia.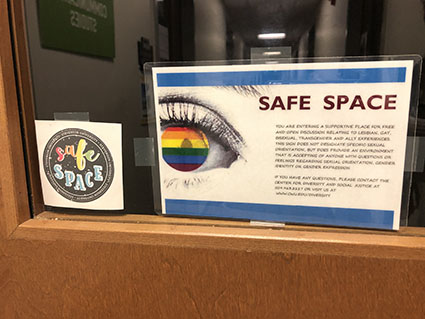 Anthony Plaag, director of Diversity & Inclusion of Stevenson's Student Government Association (SGA), says that changed behavior is one of the most important takeaways from safe space training.
"No matter where someone is in their understanding of the LGBTQ+ community," said Plaag, "if we can get someone to begin or continue advocating for LGBTQ+ rights and attacking microaggressions/ discrimination when they see it, then our training will have been successful."
In the future, Plaag would like to see a more elaborate approach to safe space training. He said that student facilitators and mandatory training for all members of the Stevenson community would create a safer and more comfortable environment for LGBTQ+ people.
Outside of safe space training, there are other small steps that people can take to create a more inclusive environment. Garcia said that including your chosen pronouns in introductions and email signatures can create an environment that is conscious of transgender people, for instance.
Resources and information on the Center for Diversity & Inclusion can be found on Stevenson.edu. The center "embraces people of all backgrounds, defined by, but not limited to, ethnicity, culture, race, gender, class, religion, nationality, sexual orientation, gender identity or expression, age, physical ability, learning styles, and political perspectives."