The annual Shapiro/Rouse lecture in Business Communication will take place on Tuesday, Nov. 19 at 7 p.m. Garrison Hall North Room 101. 2019's speaker is Hunter McIntyre, who is the director of operations for S.A.F.E. Management.
S.A.F.E. Management is involved in event services and security staffing at M&T Stadium, and McIntyre has also been involved with Super Bowl security. "Hunter McIntyre is young and very personable," said Chip Rouse, associate professor of communication and for whom the lecture is partially named. "But he's in a field that's very serious." Stadium security is an increasingly important issue, and McIntyre works in direct contact with stadiums for optimal security.
The company's goals are to "create and maintain an enjoyable and safe environment, communicate correct information, and promote a professional image" through all services, including security staffing and courtesy teams working in stadiums in Batimore, Arizona, and Detroit, as well as SuperBowls.
The lecture this year will be the twelfth consecutive one. Many different speakers have been guests of the university since the first lecture in 2007. In 2015, for example, Kevin Byrnes, senior vice president of public and community relations for the Baltimore Ravens, spoke during a packed lecture.
According to Ron Shapiro's website, he is "the founder of the Shapiro Negotiations Institute, expert Negotiator, Sports Agent, Attorney, Educator, New York Times Bestselling Author, and Civic Leader."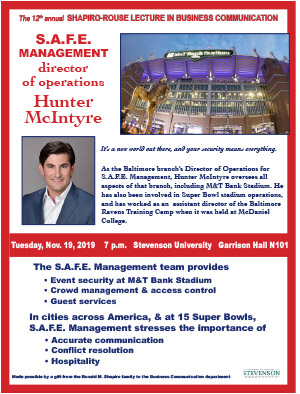 Chip Rouse, associate professor of business communication at Stevenson University, is named in the title of the lecture series along with Shapiro. "He made a very generous donation to the business communication department in [our names]," said Rouse, "so that we could have a speaker come every year."
According to Rouse, each lecture is set up through joint efforts between Shapiro and herself. They agree on a speaker and one of them reaches out with an invitation. She also mentioned that each guest speaker's style is unique to his or her own lecture.
Shapiro's connection to the school goes beyond the lecture series. He has been on the university's board of trustees since years before the donation, and according to Stevenson.edu, Rouse has been a faculty member at Villa Julie College/Stevenson University since January, 1984.
According to S.A.F.E. Management's website, McIntyre spent time working directly with Shapiro. McIntyre helped with contracts, writing and negotiations in various fields of sports management. In his free time, McIntyre works with non-profits, hospitals and fire house restoration.
USA Today called Ron Shapiro "one of baseball's most respected agent-attorneys," and The Sporting News named him one of the "100 most powerful people in sports," according to Shapiro's attorney profile. His "Win-Win" style of communication has led him to become a successful negotiator.
In a Forbes article, Shapiro wrote, "The takeaway is that if you take the time to perfect your pitch, you reduce the risk of omitting the right words and regretting having used the wrong ones." Shapiro and Rouse's attention to detail have allowed this lecture series to become as successful as it is.