Stevenson University has hired Clarke Nyman as its new head coach for the swim team, which has nine total meets in their season with the first MAC championship to be held at Graham Aquatic Center on Feb. 13, 2020.
The university's swim team has 10 total participants, six women and four men. Their next competition will be held on Dec.7 at 1 p.m. at Lebanon Valley College.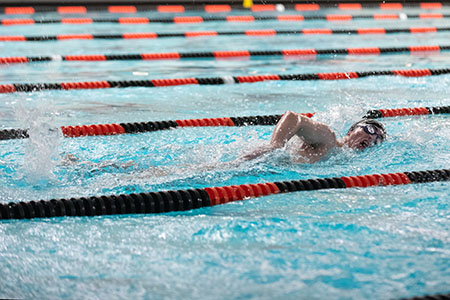 "The transition has been different for me," said Nyman. "I've been a long time age-group coach, coaching kids 14 and under. The swimming part is pretty much the same, but it takes getting used to swimmers who are more responsible and on top of their stuff." He added, "You don't have to say things more than once — they just jump on it and go and it's pretty cool."
"The team was excited [about the hiring]. They were excited for a change and a new culture," he said, adding that sometimes when there is change, people tend to look back on how things have been in the past and how things used to be done, but the new coach believes it is important to understand why the team is doing things in a new way.
Once the swimmers finish their season they have a chance to qualify for the MAC championships in February. Nyman said that once they qualify, they will get an opportunity to swim in about seven or eight events in the course of four days.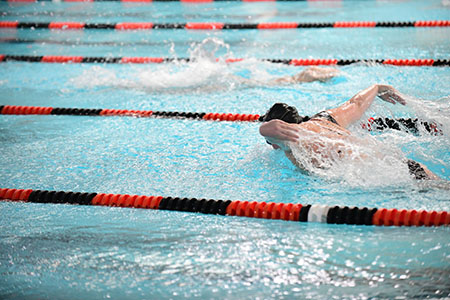 Nyman explained how the environ-ment is different physically for his swimmers as well. One of the main differences between high school and college swimming is how much more lifting and exercising swimmers do at the collegiate level, while in high school, most teams might just focus on abdominal workouts and endurance. 
Nyman loves the fact that his team gets one-on-one experience in the weight room with their strength coach, MC McFadden. He believes it is one of the advantages in coaching older swimmers.
He wants to see his team prepare for next year. "The goal is to set ourselves up for the future," he said, and added that it's important to generate a base this year in order to set themselves up for future success. Nyman said that even though it's difficult adjusting to a big change such as a new head coach, it is important to begin preparing early for the next season.
Both the Mustangs' men and women swim teams placed 11th in the Wyoming Valley Catholic Youth Center for the Diamond City Invitational on Nov. 23 and 24, according to gomustangsports. Senior women's swimmer Melanie Milam earned two bronze finishes there in the 200- and 400-yard individual medleys.