Mock trial team to host regionals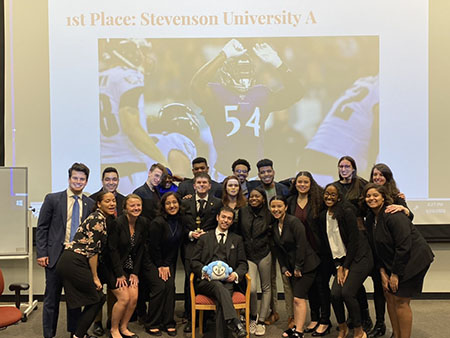 The Stevenson University mock trial teams are heading into their regional tournament confident and hopeful. After taking home wins at an array of competitions this season, the team is looking forward to finishing their year strong.
"This has been the best season yet for our program," said Wes Schrum, co-captain of the A-team. "This year truly shows how going to several tournaments helps to improve the team's skills."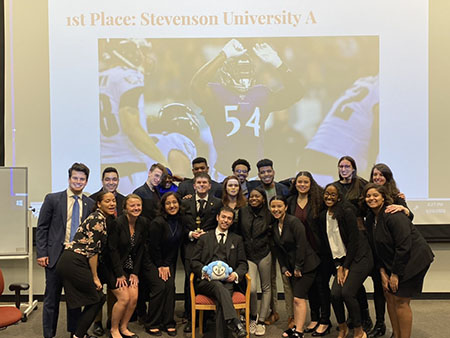 This season, the Stevenson mock trial teams – which comprise of both an A-team and a B-team – have competed in multiple tournaments, including invitationals at Yale University, University of Maryland School of Law, Drexel University, Rutgers University, and the University of Pennsylvania. Most recently, at the Johns Hopkins University Blue Jay Invitational, the A-team placed first among a field of 18 teams.
The A-team also placed fifth at the Yale University invitational Dec. 7-8. Norman Greenwell, Stevenson University alumnus and member of the A-team, believed that winning fifth place at the Yale tournament was a "revolutionary" part of the season and one of the teams' greatest successes.
Members of the mock trial team are assigned a role as either an attorney, a witness, or both. Throughout the season, members practice and compete in their roles at the various tournaments.
MaKayla Vaughn, a member of the B-team competing in her first season, said that she is learning to be confident, even in the face of challenges like rotating roles in between competitions.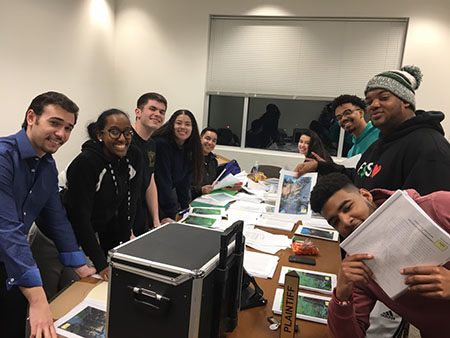 Both Eric Williams, member of the B-team, and Apreah Smith, member of the A-team, agreed that the season has been challenging, but also note that the teams' growth as individuals and as teammates has been one of the proudest moments of the year.
Muskan Malhotra, co-captain of the B-team, said that "this has been a growing season – a season to learn and adapt."
The next stop on the mock trial competition season is competing at the annual regional tournament. Stevenson University is co-hosting regionals in collaboration with the University of Maryland Baltimore County, Feb. 22-23 in the Brown School of Business and Leadership.
At regionals, Stevenson's A-team and B-team will be just two of 24 teams competing, according to Greenwell. Out of the 24 teams competing, only six teams get a bid to the Opening Round Championship Series (ORCS) in March.
To prepare for ORCS, the teams are hosting scrimmages with university mock trial teams close by, as well as practicing individually.
"A lot of us have resorted to working separately with our attorney/witness pairs to ensure everything is solid and seamless," said Sabrina Clifford, a member of the A-team. "We have been facing a higher caliber of teams this year… we now face teams that see nationals as a yearly occurrence, rather than a first-time goal."
As the teams head into the regional tournament, members want both teams win a bid to ORCS. With the A-team scoring a bid to ORCS last season, the team hopes that B-team will earn a place at ORCS this season, too.
"We've been chanting 'two teams, two bids'… because that's what we want," said Clifford.
"[We need] to make sure that we are as good as we can be come February 22," Greenwell said. "Leave it all out there, leave your heart and soul in the 'arena.'"
If the team wins a bid to compete at ORCS, many members are hoping that the team can also win a bid to compete at nationals in April. "It'd be a new achievement for the team. An experience we've all been striving towards," Clifford explained.
Donate to Stevenson Villager
Your donation will support the student journalists of Stevenson University. Your contribution will allow us to purchase equipment and cover our annual website hosting costs.