The Stevenson men's ice hockey team is gearing up for the United Collegiate Hockey Conference (UCHC) playoffs after a successful Cancer Awareness weekend. The team boasts a record of 15-5-1 and was previously ranked 10th in the nation for all Division III men's hockey teams, the first time the Mustangs have been ranked. In the men's Division III PairWise rankings, the Mustangs were ranked 19th nationally as of Jan. 22.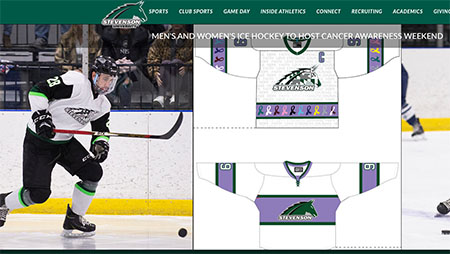 The team hosted a Cancer Awareness night against UCHC and Middle Atlantic Conference (MAC) rival Neumann University, during which the Mustangs defeated the Knights 6-3. Head coach Dominick Dawes said this game was important to the team as many players have been affected by cancer, and it was an amazing opportunity to increase awareness, raise money and simply play for the cause.
Sophomore assistant captain Ryan Patrick said the opportunity to play in the game was immense for the whole team and carried a huge message for the fight against cancer. The Mustangs wore pink-themed jerseys, and each jersey was auctioned off with the proceeds going to various charitable organizations spreading awareness for cancer.
The next day the Mustangs faced the Manhattanville College Valiants, who won last season's UCHC championship after defeating the Utica College Pioneers. The Valiants fell to the Mustangs 5-1 after a strong four-point effort by junior Carl Lyden and senior Christian Ripley.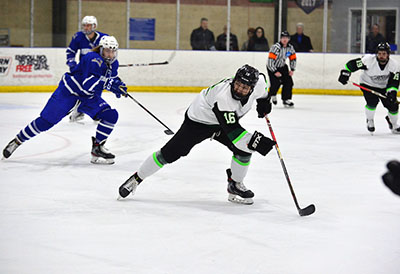 Dawes said that the weekend was a tremendous success and the team has something to prove coming into playoffs. After defeating Manhattanville, the Mustangs know they are contending for the top spot in the UCHC and a potential bye for the first round of playoffs.
As this is Dawes' fourth year at Stevenson, the coach said this was a tremendous opportunity for the team to prove themselves. He added that the inaugural class wants to create a legacy of success at Stevenson and to have future classes carry and inherit the meaning of the team motto, "hardworking by nature."
Senior defenseman Jacob McNamara said that playing four years at Stevenson not only gave him the tools to achieve success in the classroom and on the ice, but allowed him to create lifelong friendships with his teammates with whom he played from the beginning. He added that he is happy to see four years of hard work pay off; the chance to win in the UCHC and go to nationals is something the entire group has been working for day in and day out.
The Mustangs finish their season with a weekend contest against Elmira College on Feb. 21, and against Lebanon Valley College on Feb. 22. The team will host a senior night for their final game against Lebanon Valley College, a night that goes down in Mustang history as the inaugural class plays their final regular season game at the Reisterstown Sportsplex.