These events have been cancelled, but may possibly be rescheduled to a later date. Watch for updates on the MAP website and Instagram.
Stevenson's University's Mustang Activities and Programming (MAP) organization is looking forward to MAP Week, a seven-day-long event that is being held March 23-28.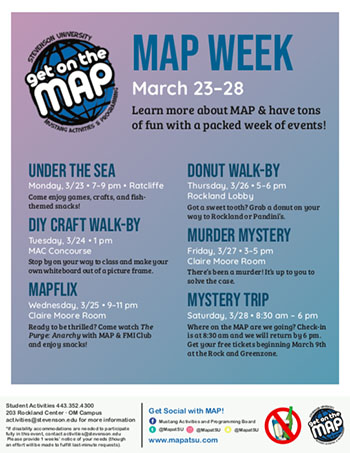 MAP is one of the three branches of Student Activities along with the Student Government Association (SGA) and the Commuter Student Association (CSA). MAP is a student-led association dedicated to programming events for the Stevenson University community.
The goal of this MAP Week is to promote the club, recruit students to join, and provide fun events for the student body according to Jenna Womack, the director of Student Activities and co-advisor of MAP.
The first event, being held on Monday, March 23, is "Under the Sea" bingo. There will be beach-themed prizes that students can win from 7-9 p.m. in Ratcliffe Community Center.
On Tuesday, March 24, MAP is holding walk-by DIY craft event from 1-3 p.m. in the Kevin Manning Academic Center (KMAC) where students can make their own dry-erase boards for free.
On Wednesday, March 25, there is a "MAPFLIX" movie night, and will be screening "The Purge: Anarchy" at 9 p.m. in the Claire Moore room. This event is in collaboration with the Film and Moving Image Club.
MAP will be giving out free donuts on Thursday, March 26, from 5-6 p.m. in the Rockland lobby.
The event on Friday, March 27 is an open invite to MAP's weekly meeting, held at 3 p.m. All students who are interested in joining, volunteering, or suggesting ideas to MAP are encouraged to attend this meeting.
Womack added that there will be complimentary food and an activity for those who come to the meeting.
To finish off the week, MAP is holding the fourth-annual Mystery Trip. Students attending the trip will depart from Stevenson at 9 a.m. and will return by 6 p.m. Sign-ups for this event are free and began on March 9 at the Rock in the Rockland lobby.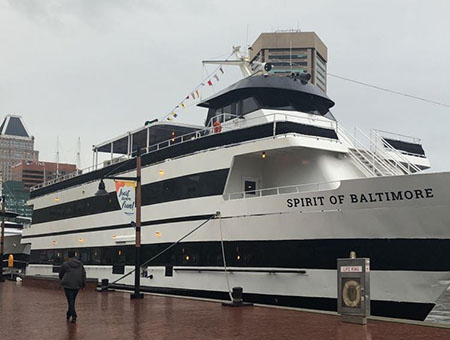 In the past, the destination for the Mystery Trip have been the Baltimore Zoo, Medieval Times and a dinner cruise in the Inner Harbor.
MAP will soon start brainstorming for upcoming events in the Fall semester and are open to suggestions from the Stevenson community. Womack encourages anyone to let MAP know of ideas for future events. "We want feedback and want to do events that students are excited about," added Womack.
There are a couple ways to get in touch with MAP. Their website contains information on upcoming events, volunteer opportunities, and ways to submit suggestions for events. Students can also sign up to join the e-mail list to get updates on events and sign-ups for volunteering.
The MAP Instagram account, @mapatsu, is also very active and a good place to find information on upcoming events.