The 2020 season for the men's and women's tennis teams began Feb 21. in attempts to compete to win the Middle Atlantic Conference championship, before NCAA abruptly ended their spring seasons.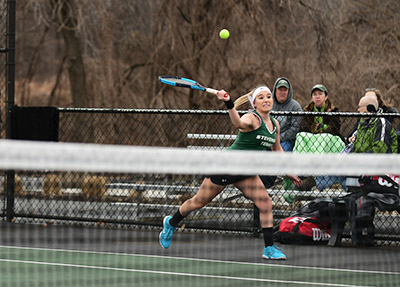 The men's team has two returning seniors, Ray McDermott and Andre Sturniolo. The women's team has three returning seniors, Nina Bretz, Kelsi Mentzer, and Jenna Skove. According to Coach Evan Clifton, the teams were focused on taking every match one at a time in order to achieve their goal in the MAC.
The men's team beat Catholic University, 8-1, then dropped two matches to Southern Virginia University, 8-1, and Washington College, 9-0. Clifton said, "Both opponents are very talented and good teams for sure. Southern Virginia was just coming off a close 5-4 loss to Carnegie Mellon, and Washington is a regionally ranked team." Clifton also noted how these matches helped the team overcome adversity and let them know they were either winning matches or learning from the losses. The men's team then bounced back to beat McDaniel College, 9-0, and Randolph, 7-2.
One member of the men's team, junior Richie Abruscato, also spoke about how the team played in their fall 2019 matches. "We did well. At the ITA tournament, we did all right, but the competition was tough, so no one made it too far. Overall, we believed in each other and learned from our mistakes." Abruscato also spoke about how Ray McDermott has made a huge impact this year.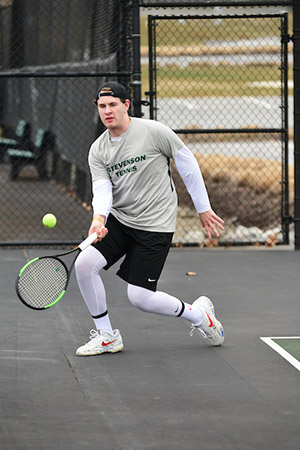 Clifton noted how the men's team relied on seniors Sturniolo and McDermott to lead the way this season. "Sturniolo and McDermott give us a great chance to grab No. 1 and 2 for singles and doubles against anyone." Clifton added that Abruscato and sophomore Larry Johnson III made noticeable leaps in their games since the last offseason.
The women's team beat Catholic University, 5-4, then dropped a tough match to a very good Randolph College team, 7-2. Said Clifton: "This Randolph women's team is among the best in the ODAC, and they beat us both at the top of the lineup and with their depth. We didn't anticipate them well, and we didn't make the correct choices of how to attack or retrieve." Clifton added that the team focused on changing this preparation and strategy during practices.
The women's team relied on seniors Skove, Bretz and Mentzer to lead the team with their experience. Clifton noted their dedication to the program over the last four years and explained that they worked tirelessly to improve their game. He also noted their impact on their teammates, especially how they encouraged the team to improve.
The team's season was cut short when the MAC and the NCAA decided to halt the continuation of all winter and spring sports seasons as of March 12. Tune in next spring as both teams push for the Middle Atlantic Conference championship.