Every year, various jobs within Stevenson University's Office of Admissions are available for university students to apply for and fill, including working as student ambassadors and as orientation and welcome leaders (OWLs).
"Admissions is primarily responsible for the recruitment of and engagement with prospective students," said Kayla Gunn, the assistant director of admissions. Correspondence through email and mail, hosting information sessions, as well as visiting high school and college fairs are some of the ways that the office is able to engage prospective students, Gunn added.

Student ambassadors and OWLS both help the Office of Admissions engage and welcome prospective and incoming students. While the two roles share similar job descriptions, there are a few key dissimilarities.
Student ambassadors, hired to work throughout the fall and spring semesters, provide tours to prospective students, according to Gunn. In comparison, OWLs – hired as summer employees – live on campus during the summer, welcoming "both prospective students on regular days and the incoming freshmen during Mustang Days," said Gunn.
On regular summer days, Gunn explained, OWLs fulfill the same responsibilities that ambassadors do by leading tours, mailing postcards, and interacting with prospective students. During Mustang Days, when incoming first-year students visit campus to attend information sessions and participate in class registration, OWLs "help facilitate a welcoming experience for them," including performing the "famous OWL song and dance," said Gunn.
"My favorite part of being an OWL is definitely the song and dance," said Jensen Conklin, a senior OWL and student ambassador. Conklin added that in addition to the song and dance, she "loves giving tours all summer because [she is] able to show people why she loves Stevenson and how it is home."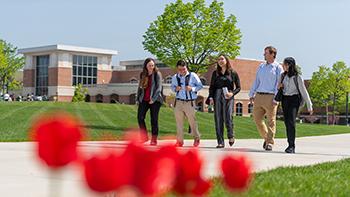 Gunn also notes that students who fill these positions gain numerous professional skills including people skills, flexibility and problem solving.
"The position [of student ambassador] really develops communication and leadership skills because it forces you to guide a group of people while creating an accurate and positive synopsis of your college experience and education," said Apreah Smith, a student ambassador. Student ambassador Marie-Clare Ofoegbu said too that the Admissions Office is very supportive and allows students to grow in their various leadership positions.
OWLS have become student ambassadors in the past, and student ambassadors are also able to apply to be OWLs, Gunn said. However, the position of OWL is not to be confused with that of an orientation leader (OL).
OLs are student volunteers who aid the Office of Student Activities with the Orientation Adventures and New Student Orientation events planned for the weekend before classes begin, Gunn said. Within the Student Activities office, the position of OL is vital, since "it focuses on acclimating new students to the college campus," Gunn added.
The Office of Admissions is presently seeking to hire ambassadors, Gunn said, noting that the original deadline to apply (April 3) will most likely be extended. Gunn added that the job announcement and application is located on the People Admin under the "Student Ambassador" title.
The window to apply to be an ambassador is generally between March and April, Gunn said, noting, too, that the application window to apply to be an OWL is generally between the months of January and February.
For questions regarding student ambassadors or OWLs, contact Gunn through campus email. Queries about OLs should be directed to Jenna Womack, director of student activities, through campus email.