BS to MS Program gives students options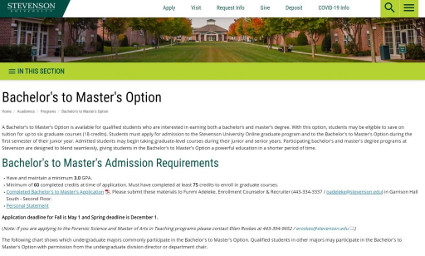 The Bachelor's to Master's path at Stevenson is an efficient and affordable way to earn a master's degree while simultaneously working on an undergraduate degree.
With 13 majors at Stevenson that have closely corresponding online master's programs, students are assured a large pool of options. Faculty in the programs have extensive, real-world experience that they bring to their courses, according to www.steveson.edu.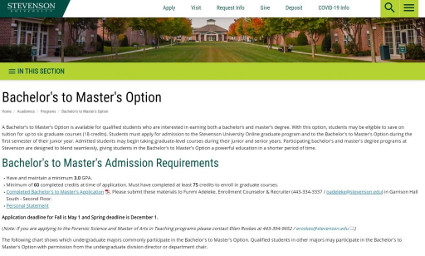 Students are able to start taking graduate-level online courses at the start of their junior year, or once they have completed 60 credits, while they are still taking their required undergraduate courses.
According to stevenson.edu, students who apply for the Bachelor's to Master's Program must have a minimum 3.0 GPA and have completed at least 75 credits before being allowed to take graduate courses. An application and a personal statement are also required for admission into the program. After admission into the program, students must maintain a 3.0 GPA.
Savana Herndon, a class of 2019 business communication major, had the opportunity to pursue her Master's degree earlier than anticipated.
"I went from the business communication undergraduate program to the community-based education and leadership master's program. I was actually able to graduate early and then pursue my Master's full time," said Herndon.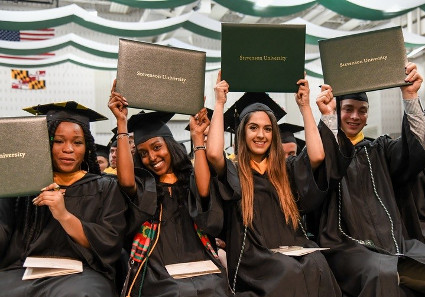 While Herndon was used to traditional courses being held in person, she had to slowly ease into online full time.
"Transitioning from the Bachelor's to Master's was difficult at first, but being able to do them simultaneously helped me adapt to the online style that the graduate classes used," said Herndon.
Herndon was able to obtain her undergraduate and Master's degree in four years, but that is not the traditional route for students. Students will likely need to do at least five years of school to obtain a master's degree.
Students who are admitted to the Bachelor's to Master's program not only are able to save time on getting their Master's degree but are also eligible to save on tuition for up to six graduate courses (18 credits), according to stevenson.edu. That equates to roughly $12,000 in savings.
Stevenson Master's programs include the following:
Business and Technology Management
Communication Studies
Community-based Education and Leadership
Crime Scene Investigation
Cybersecurity and Digital Forensics
Forensic Accounting
Forensic Investigation
Forensic Science
Forensic Studies
Healthcare Management
Nursing
Teaching (MAT)
If a student chooses a participating Bachelor's to Master's option, such as the Bachelor's degree in business administration, and then chooses to pursue a Master's in business and technology management, then their undergraduate program will usually blend seamlessly with their graduate work. Students are also able to choose Master's programs outside of their undergraduate realm.
Contact Amanda Millar, director of recruitment and admissions for Stevenson University Online (SUO), as well as Funmi Adeleke, enrollment counselor and recruiter for the BS to MS program. They can both be reached through campus email for questions regarding the Bachelor's to Master's Option.
Donate to Stevenson Villager
Your donation will support the student journalists of Stevenson University. Your contribution will allow us to purchase equipment and cover our annual website hosting costs.